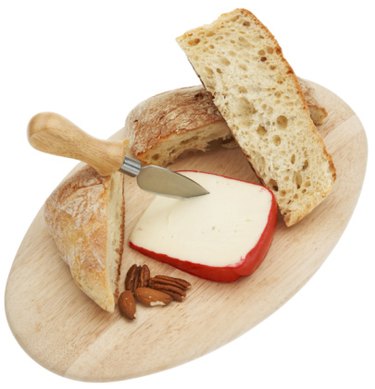 Gouda cheese is a hard Dutch cheese wrapped in wax and its sweet and fruity flavor intensifies with age. Some cheese makers add a smoke flavor or garlic flavor to the cheese. As Gouda ages, the wax rind changes from red until it is nearly black. Gouda melts smoothly and easily, and is perfect for dishes such as macaroni and cheese.
Edam Cheese
Placed in a red wax coating, Edam cheese is a pressed, semi-hard cheese made from skimmed or semi-skimmed milk. Its flavor is smooth and nutty. Because of its lower milk-fat content, Edam does not melt in a flowing manner like Gouda, but it is easier to brown.
Bel Paese Cheese
This Italian cheese is semi-soft with a mild flavor that pairs well with fruit and red wine. It melts easily, especially when grated, and can be used on pizza or in risotto.
Muenster Cheese
American Muenster cheese has a mild flavor. The European version tends to be more pungent and works well with black bread and hearty beer. Muenster is a washed rind cheese which is the reason for the orange rind. Muenster cheese is softer than Gouda but it has a flavor similar to a young Gouda. Muenster also melts in the same flowing manner as Gouda, making it a good substitute.