Mangoes are one of the world's most favored fruits and rank on top of the list when it comes to crops grown in subtropical and tropical regions, according to the University of Florida's Ag Extension. Varieties that do best in colder temperatures have anthracnose resistance. Mangoes will grow as far north as Merritt Island, and they are favorite varieties grown in the area, according to Toppy Feil of Brevard Rare Fruit Council in Melbourne, Florida.
Keitt Mango
Keitt mangoes are grown as far north as Toppy Feil's Grove on Merritt Island. Their pulp texture has a medium amount of fiber of a lemon yellow color. Grown in Florida since 1939, Keitt originated in Florida from a Mulgoba seedling. Its fruits are firm with a thick skin and a mild and sweet flavor. It has an open growth habit, and branches will droop to the ground with a heavy crop if not pruned. It is considered a dwarf tree, and each tree can be planted from 5 to 20 feet apart.
Haden Mango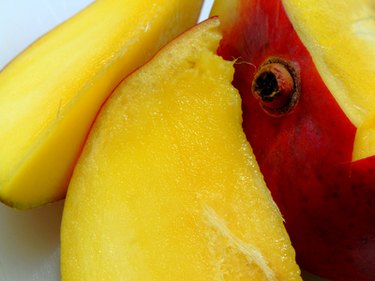 Capt. John Haden originated the Haden mango seedling in Florida in 1902 from a Mulgoba parent crossed with a turpentine variety, which flavors the fruit. The Haden mango grows into a medium to large tree up to 20 feet in height at just 6 years of age. Fruits are oval round and have a golden skin with crimson blush and mature mid-season. Seedlings should be planted 20 to 30 feet apart.
Nam Doc Mai Mango
Nam Doc Mai mango has its origins in Thailand. This elongated mango with a green-yellow color and light pink blush has a curve at the bottom of the fruit. A Queensland, Australia, government website article describes the fruit's flesh as superior and sweet with little fiber. The fruit is also eaten green and used in many Thai recipes. Seed from Nam Doc Mai result in seedlings that produce fruit true to parent in five years. Grafting onto rootstock brings fruit to the table in one to two years. The trees should be spaced 13 to 20 feet apart.
Kent Mango
The Kent mango tree is of medium height and bears fruit late in the season. It produces large and colorful fruit including greens, yellow, red and purple. The type of seed from Kent will not produce seedlings that fruit like the parent tree. Therefore, the trees require propagation by grafting. The trees should be planted 13 to 26 feet apart because the upright growth habit allows for closer spacing. Kent has a low fiber content, making it superior for slicing and eating from the hand. Its flavor is sweet with a turpentine bite that makes it complex.