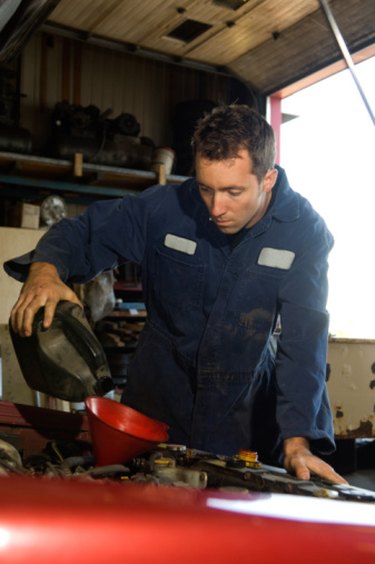 There are a number of companies that specialize in oil changes. These companies tend to be much less expensive than going to the dealer or a multi-service mechanic. The organizations can keep the cost of an oil change down as the ordering and overhead is simplified. While the companies usually offer other services such as filter changing and tire rotation, the workers do not perform all the work of a mechanic. As with all car repair shops, you should be aware of what the factory recommendations are for your car as well as when certain services are required. The locations for oil service do have a reputation for pushing the "up-sell." The business ropes you in with the low price of the oil change and then continues to add services, increasing the total bill.
EZ Lube
EZ Lube runs $19.99 specials on regular oil changes. You can also choose a particular type of oil such as Castrol Syntec or GTX, which become slightly more expensive but the company still offers discounts such as 10 percent or $10 off on a regular basis. A full-service oil change at full price runs approximately $24.99. The other services EZ Lube offers include air filter changes and tire rotation. All of these costs do depend on the type of car you have.
Jiffy Lube
Jiffy Lube also offers good prices on oil change services. A standard oil change runs around $24.99 at Jiffy Lube. The company boasts a rewards program, allowing you to accrue points toward a free oil change or 50 percent off one of the other services the company provides, such as air conditioning maintenance. If you prefer synthetic oil, the service usually costs $34.99 but you can use one of the $5-off coupons that consistently appear on the website. Other specials can be found in the newspaper or online. You can sign up for the notification service letting you know when specials are being offered.
Valvoline Instant Oil Change
Valvoline Instant Oil Change's conventional oil change runs $29.99 for a standard vehicle. The other oil options are DuraBlend, MaxLife and SynPower all of which range in price up to $50.00. The company offers coupons regularly, occasionally offering cost savings as high as 20 percent off the regular price. Valvoline storefronts can also take care of timing belts, serpentine belts and all fluid changes. The rewards program adds up for every dollar you spend. Eventually you qualify for a free oil change.