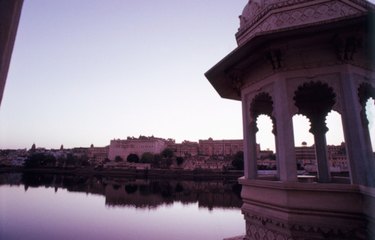 Rajasthan is the largest state in the Republic of India. Most of the Great Indian Desert is located inside Rajasthan, as are some of the oldest mountain ranges in the world, the Aravallis. Mount Abu, sacred to the Jain religion, is also in Rajasthan. Rajasthan is the home of Keoladeo National Park, a World Heritage Site, and two tiger reserves, the Sariska Tiger Reserve and Ranthambore National Park. Rajasthan has very diverse flora and fauna, but several of the area's animals and plants are endangered.
Dicliptera Abuensis
Dicliptera abuensis is an endangered plant located in the hilly areas of Mount Abu, the Kathiarbar-Gir Dry Deciduous Forests and the Dhobi Ghats. The Kathiarbar-Gir Dry Deciduous Forests are also the home of the world's only population of the Asiatic lion. The plants belong to the Acanthaceae family, which is composed of mostly shrubs or herbs.
Strobilanthes Halbergii
Strobilanthes halbergii is another plant located on Mount Abu. It is also a member of the Acanthaceae family. The genus Strobilanthes is mostly in tropical Asia. Strobilanthese are known for their striking purple flowers and striped purple leaves.
Ceropegia Odorata
Ceropegia odorata is another Mount Abu plant on the endangered list. It belongs to the Asclepiadaceae family, which is known for its unusual characteristics, such as milky, clear-colored leaves and flowers or leaves set with small holes. The Ceropegia odorata can grow in sun to partial shade. It prefers hot weather and can grow in U.S. Department of Agriculture Zone 10.
Ammannia Desertorum
Ammannia desertorum is a rare tropical plant located in both Rajasthan and Gujarat. In Rajasthan, Ammannia desertorum is mostly distributed in Jodhpur and Devikot. It's a moisture-loving plant that prefers to live in marshy planes and wet grounds. Ammannia desertorum belongs to the Lythraceae family, a group of shrubs, trees and herbs that often have quadrangular stems when young and whorled, decussated leaves.
Indigofera Caerulea
Indigofera caerulea, sometimes simply known as indigofera, is a rare plant with thin branches and oval, rounded green leaves. It belongs to the Fabaceae family, made up of herbs, vines, lianas and trees that live in both tropical and temperate areas. Though the Indigofera itself is rare, the Fabacea family is one of the largest families of flowering plants, with 18,000 species and 630 genera. Indigefera caerulea is found in the town of Pali, Rajasthan.