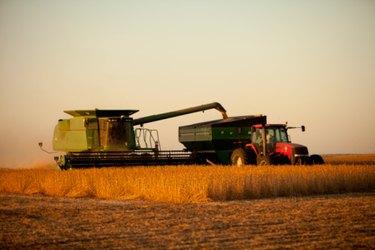 Cummins offers engines for all types of vehicles. The Cummins QSB 4.5 diesel engine, which Cummins classifies as an agricultural engine, has a design most useful in heavy machinery. Cummins produced many different versions of the QSB 4.5 and each one has its own rating, giving it a wide array of possible uses. The QSB 4.5 has three tiers: Tier 2, Tier 3 and Tier 4. Though structurally the same, the output ratings do change from tier to tier.
Mechanics
This engine has four cylinders in a straight line and is known as an inline four-cylinder (I-4). The QSB 4.5 has a bore of 4.02 inches and a stroke of 5.39 inches. The Cummins QSB 4.5 engine has a total displacement of 275 cubic inches, or 4.5 liters. It uses a single turbocharger to add to its power.
Output
The Tier 2 produces 110 horsepower and 305 pound-feet of torque. The Tier 3 engine produces 110 to160 horsepower, depending on options selected, and 460 pound-feet of torque. The fourth Tier version of the Cummins QSB 4.5 produces 110 to160 horsepower and 347 to 460 pound-feet of torque.
Capacities
These engines have specific capacities for both oil and engine coolant. The QSB 4.5 can hold up to 9 quarts of engine coolant and 11.6 quarts of engine oil.
Size
Being designed to be used in multiple applications, sizing of the QSB 4.5 becomes important. It has a length of 32.2 inches, width of 28.1 inches, 34.5 inch height and a weight of 818 lbs., with all fluids filled.