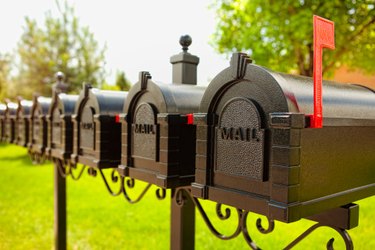 The United States Postal Service regulated the height and distance from the road a mailbox sits; to meet federal regulations, the bottom edge of the mailbox must sit between 41 and 45 inches from the surface of road. The front door of the mailbox must be at least 6 inches but not more than 8 inches from the edge of the road or the top of the curb. The USPS does not regulate the size, distance or height of the rear door on a two-door mailbox.
Rubbermaid Gentry Mailbox
Available in black, green, mocha or white, the Gentry Mailbox by Rubbermaid offers solid, double-wall construction of heavy plastic. The Gentry offers a door on each end for mail retrieval safety, keeping adults and children away from traffic while checking the mail. The dimensions of the mailbox allow for large envelopes and magazines to slide in flat. The Gentry is sold in a combination package with a mailbox post made of the same material, which features a newspaper holder and compartment for small packages that simply slides over a 4-by-4-inch post. The Gentry Mailbox conforms to all USPS mailbox regulations. As of 2010, the Rubbermaid Gentry mailbox sells for approximately $50.
Gibraltar Industries Deluxe Plastic Mailbox
The black plastic Gibraltar Industries Deluxe Mailbox is constructed with double-wall plastic that is nearly indestructible. The rear safety door adds the convenience of grabbing the mail away from the road and is large enough to allow magazines to flatten out. The Gibraltar mailbox requires simple assembly and features a durable plastic post that slides over an existing 4-by-4-inch post. When assembled it measures 21 inches deep, 50 inches high and 10 inches wide, meeting all USPS standards. As of 2010, the Gibraltar Deluxe sells for approximately $50 at home improvement and hardware stores.
Rubbermaid Classic 1 Mailbox
The Classic 1 mailbox and post combination by Rubbermaid is the original plastic mailbox offered by the company. The double-plastic construction makes it nearly impossible to destroy, and the rear safety door makes checking the mail safer. The included post slides over an existing 4-by-4-inch post for easy installation. The specifications of the Rubbermaid Classic 1 Mailbox meet all United States Postal Service regulations. As of 2010, the mailbox and post combination retails for approximately $55.