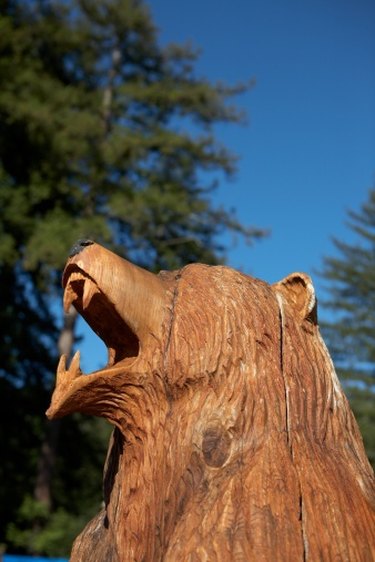 In the past, tree stumps were carved into the shape of various animals. North American animals, such as bears and raccoons have been some of the more commonly used models for carving tree stumps. These large sculptures are typically used as ornaments for the the exterior of a home or garden; however, you need not stick with animals when carving wood stumps. You can create people, symbols and modern art through tree stump carving.
People
Large tree stumps can be carved into human beings. Native Americans' large headdresses are easily recognizable---and easier to carve---as the edges are less jagged. Tree stump carvings of people do not have to consist of native Americans, though. They can be children or soldiers and anything in-between. People carvings can reflect various professions and bring attention to the buildings around them. For example, you can carve a mail carrier near a post office or a firefighter near a fire station.
Symbols
Tree stump carvings can give way to symbols, such as a holy cross or a money sign. If you run a daycare, you could carve the stump into a smiley face to give your daycare a more relaxed, fun feel. If you own a gym, you can carve the stump into the shape of a barbell. Let your imagine run wild.
Modern Art
Modern art is about expressing your emotions. Use your carving tools to create whatever abstract shapes you see in your mind's eye. It can simply be a shape that expresses your current mood. For example, a wavy design may portray that you are optimistic, while a spiral pattern may signify that you are feeling lost or confused.