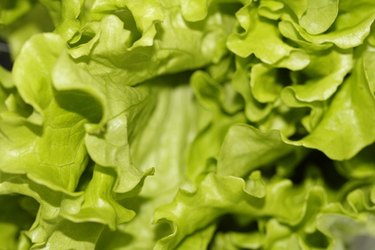 Known for its coal mines and steel factories, Pennsylvania holds rich history and excellent gardening soil. Northeast Pennsylvania is home to the largest Welch's grape processing plant and The Borough of Kane region is the world's largest producer of black cherries. Cherry trees and grapevines aside, this original American colony's USDA hardiness zones between 4b and 7a make it ideal for growing good vegetables.
Okra
Okra, Abelmoschus esculentus, is part of the hibiscus family. Okra can grow in hardiness zones 5 through 11, so it will not tolerate the coldest regions of Pennsylvania. For the best harvest, okra seeds should be planted in early summer. The best indication of planting time is that the nights remain above 55 degrees Fahrenheit. Okra grow quickly in full sunlight and must remain well-watered. When you harvest your okra, pick the pods after two to three days of them first appearing so that they are not too stringy.
Onions
Onions, Allium cepa, can be grown in nearly all hardiness zones, thanks to the new hybrid varieties. All species of onions require rich, well-drained soil and produce the best crop when the pH is between 6.2 and 6.8. Sew onion seeds directly into the soil in spring or once the soil is 50 degrees Fahrenheit. Onions must be rotated if they are grown year after year and cannot be regrown in the same space for at least three years to allow the soil time to recover and avoid onion diseases. Onions are shallow plants, so they require consistently moist soil.
Sweet Peppers
Sweet peppers, Capsicum annuum, is frost sensitive, but thrives in Pennsylvania's summer temperatures. Planting the faster growing varieties in the beginning of summer ensures a bountiful harvest by autumn. For the best results, start the seeds indoors in January and transplant once the soil is at least 50 degrees Fahrenheit.
Lettuce
Lettuce, Lactuca sativa, requires hardiness zones six through 8A for spring and fall planting. It will withstand light frosts and thrives in partial sun. Lettuce can be used as a border plant in gardens and thrives in containers as well. The hardiest varieties to grow in Pennsylvania include Bibb and Perella Red, which can tolerate temperatures as low as 4 degrees Fahrenheit.