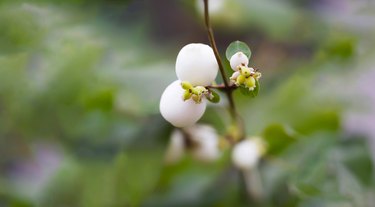 It may be common knowledge that some white berries from native plants are toxic, but did you know that there are edible white berries from native plants? Knowing which berries are edible and which will make you sick is essential. Never eat berries found in nature that you're unsure of; it's best to wait to eat them until you've done thorough research.
Many plants with white berries are pretty easy to grow. Most of these white berry bushes can be grown with seeds or by propagating existing plants. The berries these bushes produce can range in taste from blackberry sweetness to bitter soap. Choosing the best white berry bush for your yard and how to grow plants with white berries requires specific knowledge and identification skills.
Eating White Blackberries
One type of white berry that is safe to eat is the white blackberry. White blackberries are a hybrid created by Luther Burbank in 1914. Burbank crossed a variety named the Old Crystal White with Lawton, which is considered the most productive blackberry known in America. They are sweeter than traditional blackberries and have lower acidity levels. White blackberries are perfect for eating fresh, in jams or in pies.
White blackberries are reasonably easy to grow in your garden. Because you can't regularly find this hybrid berry in nature, you'll need to purchase seeds from a reputable source unless you happen to live near their native habitat in central Florida. After planting your white blackberries, you can expect to harvest them in mid to late summer. These brambles prefer a half day of sun and to be watered once or twice a week.
Identifying and Eating Snowberry
If you are looking for a plant to grow in your garden that produces white berries, you might want to consider the snowberry. Snowberries are native to North America and Europe. The berries are small and white, and they grow on a shrub. These shrubs can grow up to 3 feet tall and 6 feet wide, and they typically grow in wet environments, like bogs and wetland forests. Their leaves are only 5 to 10 millimeters long.
Snowberries are often used in jams or syrups. The berries are edible and have a fantastic wintergreen flavor that's similar to the related wintergreen plant. Unlike the wintergreen plant, though, the flavor is more concentrated in the snowberry and has been compared with that of a wintergreen Tic-Tac. To find creeping snowberry fruits, look for the mats of small leaves and then crouch down to find the white fruits. They may be hidden among the tiny leaves.
Another native plant that produces white edible berries is the white mulberry tree. This tree is native to China and is grown throughout the U.S. in hardiness zones 4 to 9. The white mulberry tree prefers warm and dry soil and tends to thrive in sandy soils, such as loam. White mulberry trees grow well in temperate climates and have been grown in California for several decades.
The white mulberries have a similar taste to other varieties of mulberries but tend to be far sweeter. These mulberries are a fantastic pick for jams or pie filling. These little berries are packed full of nutrients; they're rich in antioxidants, vitamin C and iron. They've also been used for centuries in natural medicine to treat various ailments. The white mulberries are fairly small, and these tasty little treats measure only a few centimeters long.