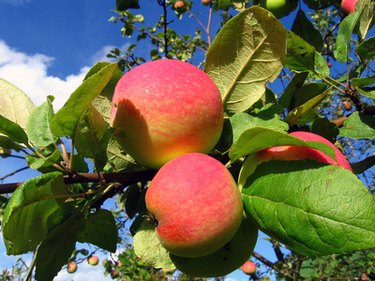 Mississippi's mild and short winter prevents a wide array of apple tree (Malus domestica) varieties from being successfully grown, but Mississippi State University says that plenty of spur-type apple trees grow well across the Magnolia State. Choose varieties that are grown/grafted on 'M 7A' or 'MM 106' rootstock or 'East Melling' or 'Malling-Merton' roots. Fewer apple trees are recommended for the Gulf Coast counties, because winters are too warm for good springtime apple-blossom production.
'Smoothee'
'Smoothee' is an excellent, all-around apple tree variety to grow in Mississippi, and its presence helps to cross-pollinate the flowers on other apple trees. 'Smoothee' is not a tree for southernmost counties, though. This tree's fruits are a "yellow delicious" type, with excellent flavor, aroma and storage qualities.
'Gala'
"Gala" is an excellent apple for fresh eating and cooking, with a vivid reddish-orange skin. Vigorous growing, smaller in size and typically producing plenty of fruits, this variety may be perfect for a smaller garden setting. Mississippi State University also recommends the newer varieties developed from 'Gala,' namely 'Royal' or 'Imperial.'
'Arkansas Black'
'Arkansas Black' blooms comparatively late in the season, so it is a great companion orchard tree for any other apples that are known to be mid-season or late-season. Its fruits are firm-fleshed, deep dark red and crispy. Some gardeners attest that 'Arkansas Black' apples taste even better after two months of storage in the cellar, according to the "Sunset Western Garden Book."
'Granny Smith'
Originating in Australia, 'Granny Smith' produces tart apples that are great for pies, applesauce or fresh eating. These large, bright green-yellow apples mature late in summer (much later than other apples) and store well in a cool, dry location for months. It is a good companion orchard tree for 'Arkansas Black' for increased fruit production.
'Fuji'
Named after the mountain in Japan, 'Fuji' produces mottled red- and yellow-skinned fruit and is arguably one of the highest-quality fresh fruits sold in the United States. This tree has a low winter chilling requirement to produce flowers in spring, and be advised that the physical look of the Fuji apple on Mississippi-grown trees isn't exactly beautiful, but it's certainly edible. Grow 'Fuji' across the entire state, including along the Gulf Coast.
'Anna'
A red apple, 'Anna' is perhaps the best apple tree for Mississippi orchards located within 50 miles of the Gulf of Mexico. It flowers early, but must be cross-pollinated by the variety 'Golden Dorsett' in order to produce any fruits.
'Golden Dorsett'
Mississippi State University specifically names 'Golden Dorsett' as the best apple variety for the American South. This apple is considered a "yellow delicious" type. It needs minimal winter chilling in the state and blooms early in spring. Grow it statewide, including in Biloxi. Remember, if you grow the 'Anna' apple tree you need at least one 'Golden Dorsett' nearby to facilitate cross-pollination.