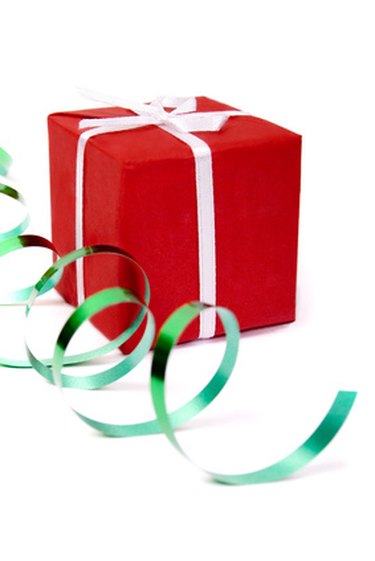 Holidays and celebrations usually mean gift-giving, but it can get expensive when you have to get gifts for a group of people. For example, you might be a manager who wants to give gifts to your staff, a teacher who wants to give gifts to your students or you might simply have many members in your family to whom you'd like to give a gift. Consider affordable, but quality gifts to cut back on costs.
Cookie-Pops
Buy an assortment of cookie dough flavors, colored plastic wrap or tissue paper, and popsicle sticks. Make the cookie dough into different circle, heart and square shapes on a cookie sheet, with a popsicle stick about a third of an inch from the bottom of each cookie dough shape. Be sure to press the popsicle stick into the middle of the dough so it will bake in the center of the cookie. Bake the cookies and wrap them in the colored wrapping or tissue paper after cooling. Consider any food allergies, such as to peanut butter, the intended recipients may have before handing out the cookie-pops.
You can usually get the wrapping and popsicle sticks from the dollar store and cookie dough is certainly inexpensive, so this gift can be an affordable, tasty choice for any group of people.
Poetry Candy
Get a big bag of candy, some string and a hole puncher from the dollar store. Type up a poem--either write one yourself or use one of your favorites--inside a text box of a Word document, using no more than 15 words in 12-point size font.
Copy and paste the text box with the poem inside as many times as you can on the same document and print as many copies as you need for the number of people in your gift group. Cut the individual poems out and punch a hole in the top. Take the string and pull it through the hole, attaching it to a piece of candy. Repeat those steps for as needed for each piece of poetry candy.
Gift Cards for Dinner
Instead of giving out gift cards to a restaurant, try making homemade gift cards and invite the group to your house for dinner. The gift card might say, "You are cordially invited to my home for dinner," and include the details of the date and time. Plan a menu that will be both inexpensive and tasty--such as spaghetti, garlic bread and juice drinks. You can get utensils and eating decor from the dollar store.