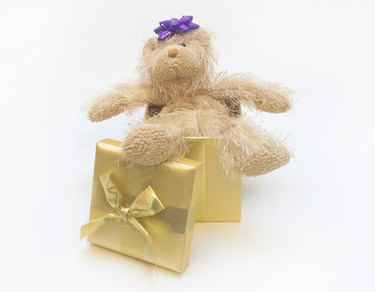 Most people think of Las Vegas, Nevada, as a place to see spectacular shows, gamble and dine at world class restaurants. Sadly, however, there are many struggling families in Las Vegas who are in need every year, especially during the Christmas season. Many opportunities are available to help provide free Christmas gifts for the less fortunate. National and local charitable organizations will greatly appreciate your contribution of time, money or an unwrapped gift for a child.
Salvation Army
The Salvation Army bell ringers have become a symbol of Christmas giving and sharing in America. Each year, the Salvation Army volunteers stand for hours outside department stores and on street corners ringing their bells and collecting money in their red kettles to help those less fortunate. The Salvation Army helps to provide free Christmas gifts for needy families in Las Vegas and across the country. Needy families, senior citizens and homeless people benefit from the gifts from the Salvation Army. Food, blankets, toys for children and clothing are among the free Christmas gifts that are available for needy families in Las Vegas.
The Salvation Army Clark County Command 2900 Palomino Lane Las Vegas, Nevada 89107 702-870-4430 salvationarmy.org
Toys for Tots
Toys for Tots was started by the United States Marine Corps Reserve to provide Christmas toys to children whose families do not have the money to buy presents. The new, unwrapped toys are collected during October through early December each year and then sorted, wrapped and delivered to children before Christmas day. The Marine Corps Reserve, through Toys for Tots, seeks to bring the joy of Christmas to needy children across the country. Toys for Tots also brings the people of the community together for the common cause of helping those in need.
Marine Toys for Tots Foundation United States Marine Corps Inspector Instructor Staff 5095 Range Road Las Vegas, Nevada 89115 702-632-1503 toysfortots.org
Shop with a Cop
The Las Vegas Metro Police Department participates in the Shop with a Cop program to provide Christmas gifts to needy families in Las Vegas. The program pairs a Las Vegas police officer with a child from a needy family. The police officer then takes the child shopping for Christmas presents for them and for their family. In 2009, according to the "Las Vegas Sun," more than $15,000 was raised for the program and more than 120 needy children and their families in Las Vegas received gifts for Christmas. Children are nominated to participate in the program and each receives a gift card for a local department store. Their police officer takes them shopping at the store where they use the gift card to buy Christmas presents for themselves and for their family members. The children who participated in the program in 2009 each received a gift card for Target department store valued at $130. The Shop with a Cop program is not only an opportunity to help provide free Christmas gifts to the less fortunate in Las Vegas, it is a chance to improve good will between the police department and the community.
Las Vegas Metro Police Department 3141 Sunrise Avenue Las Vegas, Nevada 89101 (702) 828-3111 lvmpd.com