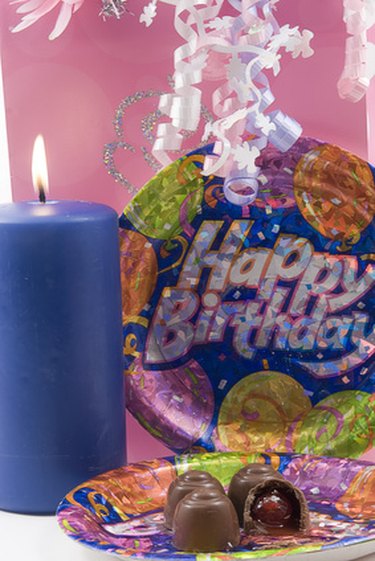 A person's 90th birthday is a monumental event and should be celebrated in style. Invite some family and friends over for the big day and have fun playing various games. There are many games that you can play at home or in the back yard. Use your imagination to create your own games or play relic games that were favorites when the birthday celebrant was a youth himself.
Decades Trivia Game
One game for a 90th birthday is a trivia game about the birthday celebrant, according to Mypartyplanner.com. Create 10 or 15 trivia questions related to the person's life throughout various decades, including the city in which he was born, his favorite hobby as a boy and even where he met his wife. Hang pictures on poster boards around the room with the various questions. Provide subtle clues for more difficult questions. Hand out sheets of paper for people to write down their answers. The person who answers the most questions correctly can win a gift certificate.
Scavenger Hunt
Have a scavenger hunt for your favorite nonagenarian. Divide everyone up into several teams and have them search for certain items. Use personal items like a button, a cuff link, cigar butt or other things associated with the birthday celebrant. Plant the items in the garden or around the yard. Provide everyone with a sheet of clues as to where to find the items. Award everyone on the winning team with a small door prize.
Black Jack
Throw a casino-themed party for 90 year old. Select one game like black jack and have all participants sit at a table or around the room. Create or purchase fake money for guests to purchase their chips. Let the honoree be the croupier or dealer, passing out cards to everyone. Run several black jack games so everyone who wants to can participate.
Throwback Badminton
Badminton is an old game that has been around for many years, certainly during the era the birthday celebrant was born. Instead of just playing the game, have everyone where relic clothing from the 1920s or whatever decade in which the 90-year-old was born. Women can wear flapper dresses and cloche hats like they work in the roaring 20s. Men can wear knickerbockers and lace-up style shoes. The guest of honor can wear tuxedo and white pleated shirt so he stands out from the crowd. Take plenty of pictures of the memorable event.