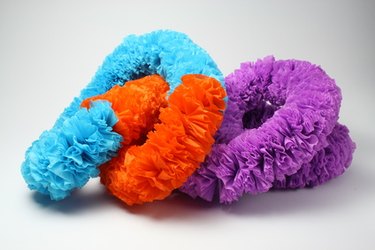 Whether you're hosting an achievement dinner for businesswomen or a Christmas party for stay-at-home moms, a theme can make women's events more fun. But you must also be careful when you use themes. You don't want your event to seem hokey or contrived. Think about your event's purpose and the people who will be attending before you decide on a theme. Be creative; try to pick the theme that best suits the party's audience or purpose.
Hawaiian Luau
Deck the halls with boughs of tropical flowers, leis, grass skirts and tiki torches for this oldie but goody. A Hawaiian luau is an excellent theme for a women's event that is geared toward relaxation and fun. For instance, it is a fun theme for a mixer or bridal shower. Use brightly colored flowers, leis and Hawaiian cardboard cutouts for decorations. According to Wine Definitions.Com: "Bright and colorful is sure to set a tropical ambiance." Serve margaritas, Hawaiian punch and daiquiris. Complete the theme by offering Hawaiian games and dances, like hula-hoop contests.
Colors
Color themes work well with most women's events; this is a simple way to make a party look coordinated and classy. Choose two or more complementary colors and decorate with them. Choose balloons, streamers, and centerpieces in your chosen colors. Whether you're planning a relaxed and fun-filled evening or a professional and refined event, a color theme is a simple way to make your event seem more warm and inviting.
Little Black Dress
According to Happenings and Holidays, the little black dress party can either dress up or dress down a women's gathering. Ask event attendees to wear a favorite "little black dress," sprucing it up with whatever accessories they would like. Use a black-covered table cloth and little black dresses purchased from thrift stores as decorations. Have games that center around fashion, accessorizing and how to use the little black dress.