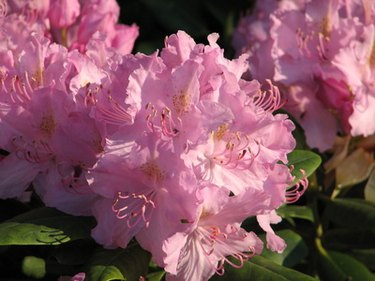 The American Rhododendron Society measures the growth rates of numerous species and hybrids. Speed of growth is determined by calculating how tall a plant grows in 10 years. Many rhododendron plants grow from 3 to 4 feet in 10 years, but some can grow up to 7 feet in 10 years. Some of the fastest growing rhododendrons are the Brittenhill Bugle, R. genestierianum, Ilam Cream, Mother of Pearl, Professor Hugo de Vries, Spicy Nutmeg, and the Whidbey Island. Fast-growing rhododendrons come in all colors, and can be found wherever rhododendrons bloom.
Brittenhill Bugle
The Brittenhill Bugle rhododendron has red, funnel-shaped flowers with wavy edges. Nine or 10 of the 4-inch-wide flowers form ball-shaped clusters. Each flower has a red, star-shaped eye that is black at the edges and lighter in the center. Brittenhill Bugle flowers are nonfragrant, and bloom in early to mid-spring.
R. Genestierianum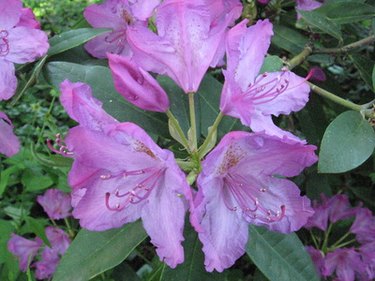 Purple is the predominate color of R. genestierianum flowers, which are tubular, bell-shaped, and 3/4-inch in diameter, with an inflorescence of four to 15 flowers. This fast-growing rhododendron grows as an upright shrub or small tree. It originated in China and North Burma.
Ilam Cream
The Ilam Cream rhododendron has wide, funnel-shaped flowers that begin as pink buds and "open to pale primrose-yellow flowers, suffused with pink on the lobes," according to the Sonoma Horticultural Nursery. The flowers are slightly fragrant, and the leaves are large, dark green, and somewhat twisted. Ilam Cream rhododendrons bloom in mid-April, and prefer partial shade.
Mother of Pearl
Mother of Pearl flowers are 2 1/2 to 4 inches in diameter. Their color is white with a slight pink tint and purplish-pink lines on the outside, and each cluster has 11 to 17 flowers. This fragrant rhododendron blooms in mid to late spring.
Professor Hugo de Vries
The nonfragrant lavender flowers of the Professor Hugo de Vries rhododendron are broad and funnel-like, and each truss or cluster of 17 flowers is pyramid-shaped. The flowers are 4 inches wide and lilac-rose colored with reddish-brown markings on a pale background. The slightly glossy medium-green leaves are about 5 1/2 inches long. Professor Hugo de Vries rhododendrons blossom late in the spring blooming season.
Spicy Nutmeg
Spicy Nutmeg is a fragrant, fast-growing rhododendron that has funnel-shaped, 3 1/2-inch wide flowers with wavy lobes. The flowers are pale purplish-pink with reddish-purple rays and spotting in the flower's funnel throat. The Spicy Nutmeg blooms in early spring, and is a cold-hardy plant with long, olive-green leaves.
Whidbey Island
The Whidbey Island rhododendron has purple flowers that are 1 1/2 inches across. The very light purple, bell-shaped flowers have narrow, bright violet edges and a dark purple spot at the base of the flower's throat. Each round cluster consists of 22 to 24 flowers, and the 8-inch long leaves are dark green with silver indumentum, which is described by the Journal American Rhododendron Society as a "soft and velvet-like hairy covering found on the underside of the leaves of some rhododendrons."