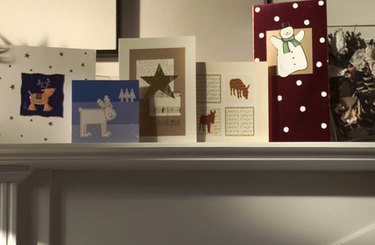 Crafting can be a fun and rewarding outlet for spiritual and emotional expression. Make your own Christian crafts using simple materials found in most homes. These creations make especially meaningful gifts or lovely additions to your home mantle. Christian adults and children alike can enjoy crafts during Bible study, at church socials or any time at home.
Make Greeting Cards
Make custom cards with beautiful imagery such as the cross; scenes from ancient Christian holy lands such as Nazareth, Galilee and Jerusalem; and Christian symbols such as a lamb or a fish. All you need is cardstock, thick printer paper or even plain brown grocery bag paper, plus scissors, glue stick or craft glue and markers for adding words and drawings. Cut out images and glue them to the card, or draw designs freehand. If you enjoy stamping, add designs with Christian or other themes. Consider giving blank versions of your handmade cards as gifts for Christian holidays or special occasions.
Create a Faithbook
Faithbooks are beautiful journals similar to scrapbooks, but instead detail one's private spiritual life and devotional thoughts and ideas. Start with a blank scrapbook or journal that appeals to you (available at most bookstores). With a calligraphy pen or marker, record Christian quotes and poems, lines of Scripture, lessons from the gospel or other Christian messages. If you wish, include images of Christ, Mary, scenes of miracles being performed or other religious imagery. You also can use your faithbook to detail the spiritual journey of you or someone you know. Include snapshots of your church, recent church gatherings and retreats or other occasions of worship. Faithbooks can incorporate all the crafting elements of a scrapbook, including custom-built pockets, sections that open with beautiful title pages and covers filled with multi-textured elements like velvet or wood.
Christmas Story Manger
Remember the Christmas story in a meaningful way. Craft your own manger, such as the "Manger of Love" on the website Craft Elf. Use hot glue, craft sticks, craft hay and heavy cardstock, and use a doll to stand in for the baby Jesus. This manger will make a special addition to any home Nativity scene and remind you and your family of the true "reason for the season."