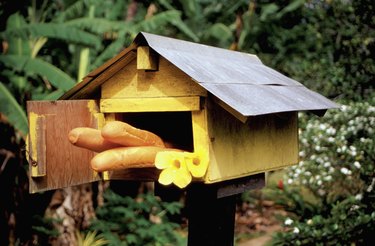 With the right tools and a good set of plans, woodworking projects can turn into the start of a new career. Choose one project type or a spectrum of wooden designs, depending on your personal interests and level of woodworking experience. Market the projects locally at yard sales or flea markets and develop an online marketing plan that makes your products available for ordering 24 hours a day from anywhere in the world.
Chests and Boxes
A basic box can be modified with inner compartments, exterior scroll work or affixed wooden shapes. With basic box building experience, you can scale the designs and make box furniture such as a chest of drawers or night stand. Toy chests are a relatively simple box design that allow you set up jigs or fixed patterns to facilitate making exact copies. Use different types of wood and stain to increase the variety.
Jewelry Boxes
Jewelry boxes are commonly sought-after handmade items. They can be built in many shapes and sizes and may contain a combination of hangers, drawers, compartments and spindles to accommodate different kinds of jewelry. The important factor is the level of detail you are able to invest in each design without compromising the profit potential of the finished box.
Shelves and Stands
Curio shelves, bookcases and entertainment centers all bear a close relation to one another in design. A basic shelf design consists of two equal sides and a variable number of equal shelf planks. To customize a shelf design, add dividers or place the shelves different distances apart. You might substitute columns for the sides but include enough support for the intended use of the finished project. Because of their simplicity, shelves and stands can be cut using jigs that allow greater productivity and uniform cuts.
Yard Art
Wind vanes made with wood can take on a variety of appearances. For example, a lumberjack wind vane might chop wood faster as the wind increases, or a wooden bird might peck at the ground. Trace the patterns on plywood and cut along the lines with a jigsaw. Paint the pieces using brightly colored latex paint. Other yard art designs include decorative wooden wheel barrows, large plywood silhouette cut-outs or decorative wooden animals for placement along walkways or garden paths.
Portable Trays and Stands
Wooden trays are simple to construct and are useful for many things. After all, a television tray is little more than a piece of plywood supported by legs. The tray can be small enough to sit across a person's lap on the sofa, or it can stand on the floor like a small table. You might add features such as a cup holder or a stand with an extendable shelf that slides beneath the main tray for easy storage.