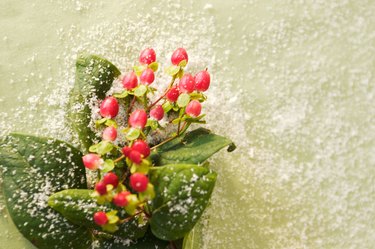 During the Christmas holidays, celebrations, parties and presentations at churches and community centers abound. For many, the holiday focuses around family and traditions. Creating an entertaining program fit for the entire family is one way to celebrate the holiday. Plays and presentations for the season should always be appropriate to the audience to not offend those who do not celebrate the holiday in a religious manner.
Christmas With Laura Ingalls Wilder
Generations of children have grown up with the stories of Laura Ingalls Wilder. The basis of her books is family and growing up in a changing world. Throughout her stories are recollections of Christmas days gone by. Translate these stories into Christmas family programs with a small amount of tweaking. In the very first book of her series, Wilder relates the story of having Christmas with her family in the wilds of Wisconsin. Express the story with a script, dividing the story into characters and narrator descriptions. The story involves adult and child characters, allowing a variety in the cast. Keep the scenery for your presentation very simple and use costumes from the day. Using an adaptation from a popular child's author gives the audience a familiarity with the story and reminds adults of the wonders of Christmas as a child.
Songs for the Season
Create a secular family Christmas program using songs and skits. While Christmas is viewed as a celebration of the birth of Jesus Christ by Christians, non-religious persons celebrate the holiday for other reasons. A program made up of secular music selections is pleasing for all involved. Turn old staples such as Bing Crosby's "White Christmas" and Burl Ives' "Holly Jolly Christmas" into audience-participation songs, encouraging everyone in attendance to join in. Newer songs, including My Chemical Romance's "All I Want for Christmas Is You" and Harry Connick Jr.'s "It Must Have Been Old Santa" are intermingled with traditional songs such as "Here Comes Santa Claus" and "Santa Claus Is Coming to Town." End a show with everyone singing, "We Wish You a Merry Christmas," as the audience files out. Mingling these tunes unites older and younger attendees in the spirit of the season.
The Twelve Days of Christmas
For a whimsical family Christmas program, transform the song "The Twelve Days of Christmas" into a visual presentation. This ideas requires a large cast of characters. Represent each day of Christmas in the song by a number of specific items. Create characters for each item with costumes. For example, the lyric "two turtle doves" requires two actors dressed as turtle doves, and the line "five golden rings" requires five actors carrying golden rings. A chorus sings the song in the background as the items are presented. The stage will fill up with characters singing as each item is paraded across.