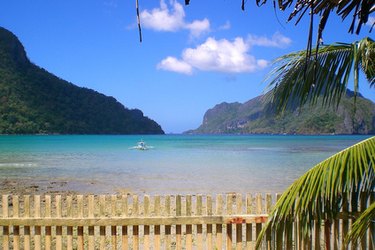 California has traditionally been a departure area for major cruise lines sailing to Alaska and Mexico. Alternatively, cruise vacations to Asia are becoming a popular choice of U.S. travelers. Small specialty cruise ships depart from San Francisco or Los Angeles. These cruises often include ports of call in the Hawaiian Islands, Australia and China. The cruise ships featuring these vacations sail to destinations in Asia, including the Philippines. A cruise vacation that includes a port of call in the Philippines allows visitors access to this bustling island. The central port of the Philippines is located in the city of Manila. When cruise ships dock in this city, shore excursions are available to visit both the older colonial section and modern parts of the city.
P&O Cruises Oriana
The British cruise line P&O Cruises offers a trip which departs from San Francisco, as one leg of a world cruise. The shortest option is a 35-day trip making stops in Hawaii, Somoa, New Zealand and Australia. The trip adds a port stop in Manila, Philippines, before ending in Hong Kong. This 3-star ship was built in 1995 with a passenger capacity of under 1,800. Bookings on this line can also include transportation to and from the UK with selected sailings, and as of spring 2010 passengers can save 5 percent by booking online.
P&O Cruises Carnival House 100 Harbour Parade Southampton England SO15 1ST 0845-678-00-14 pocruises.com
Regent Seven Seas Voyager
The Regent Seven Seas Voyager departs from San Francisco and includes ports of call in the South Pacific, New Zealand and Australia, Indonesia, the Philippines, Taiwan and South Korea before ending in China. This 66-day adventure cruise is aboard a 6 star-rated ship built in 2004 and fully refurbished in 2007, with a passenger capacity of under 700. The Seven Seas Voyager is an all-suite ship, with spacious cabins appointed with marble bathrooms and full-size bath tubs. The ship offers spa services, boutique shopping and four different options for dining, including a Mediterranean buffet, french cuisine, a steakhouse or a poolside grill.
Regent Seven Seas Cruises 1000 Corporate Drive, Suite 500 Fort Lauderdale, Florida 33334 877-505-5370 rssc.com
Silversea Silver Spirit
For southern California departures, Silversea Cruises offers a 60-day leg of a world cruise aboard the Silver Spirit, which departs from Los Angeles. The ports of call include New Zealand, Australia, Indonesia and Malaysia before visiting the Philippines and ending in Hong Kong. This tiny 6 star-rated ship is a new addition to the fleet as of 2009 and holds only 540 passengers. This is also an all-suite ship, with teak balconies in 95 percent of the staterooms. Dining, entertainment and relaxation options are those of a luxury resort, with six different restaurants to sample.
Silversea Cruises 9414 International Court St. Petersburg, Florida 33716 800-313-8883 silverseaships.com