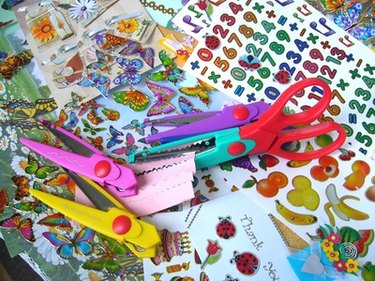 If you need to make a little extra money and have an artistic ability you would love to display, selling small craft items matches both of those needs. When choosing craft items to sell, the key is to keep your expenses low until you know what sells and what doesn't. Focus on the items that you can make at a relative low price and sell for a profit. While the money is a benefit, it's important to choose items you enjoy making to keep you motivated to complete the projects.
Beaded Crafts
Prepare a variety of different beaded crafts to sell at a store, online or at a craft stand at a show. Beaded crafts can include decorations for seasonal events such as ornaments for a Christmas tree or beaded hearts for Valentine's Day or rabbits for Easter. Beaded crafts that can be sold the entire year include different types of jewelry. Beaded necklaces and earrings can be made from a kit and then sold. Be sure to keep track of the cost of your supplies and charge slightly more than that cost to make a profit.
Collages
Collages can be used to decorate a variety of different of locations. They can be used for bedrooms, offices, or restaurants as examples. When creating collages to sell, create ones with a variety of themes to maximize your potential customer base. Create some that have pictures of seasonal activities such as boating, fishing and water skiing for the summer. Winter activities used can be skiing, snowboarding, sledding, and people building a snowman. Frame your collages so they are permanent works of art. These can then be hung from a wall or placed on a desk. Create a variety of sizes ranges from small 3x5 ones for desks to large wall-sized ones, to be used as wall posters are used.
Paper Crafts
Paper can be purchased at low prices and be used for a variety of different crafts to sell. There are traditional crafts you can prepare with paper such as origami and greeting cards prepared from paper. Another item you can make is custom-designed CD holders. Take the plain paper CD envelopes that are used to hold CDs, and using computer art software such as Photoshop, create artwork that can be printed on the envelopes. These can then be themed for special types of games such as sports, dungeon games, fighting games and others. The CD envelopes are cheap, and your only other expenses are printer toner if you already own Photoshop or other digital editing software.
Beanbags
Beanbags might seem to have a limited audience, but in reality they have several different uses. Beanbags can be used to decorate a living room or bedroom. They can also be functional as pieces for games. Beanbags can be used for children's beanbag toss games, or the popular cornhole game played at cookouts, tailgating parties and other outdoor events.