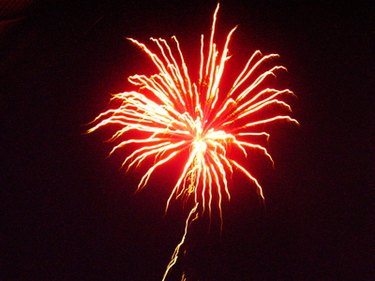 New Year's Eve is the occasion of parties, special events, and entertainment around the world. San Diego is no exception, and several venues offer entertainment events every New Year's Eve. New Year's eve events are held at the Hard Rock Hotel, California Center for the Arts Escondido, Legoland, the Catamaran, and the Torrey Pines Hilton, providing many things to do for New Year's celebrants.
Hard Rock Hotel
The Hard Rock Hotel offers a New Year's Eve party. This is a relatively expensive event, although packages include rooms at the hotel, so celebrators don't have to travel to rooms elsewhere after midnight which can be unpleasant and dangerous because of inebriated drivers. The themed hotel includes pictures and music from rock history, and offers a party with live music performances on several floors.
Hard Rock Hotel San Diego 207 Fifth Avenue San Diego, CA 92101 619-702-3000 hardrockhotelsd.com
First Night Escondido
First Night Escondido is another New Year's Eve event in the San Diego area. First Night is an event that provides New Year's fun for all ages. This event includes local artists showing off creations such as paintings and bead crafts at the California Center for the Arts in Escondido. Booths selling food from Escondido vendors are open all night at the event's food court. First Night is also known for its fireworks display at midnight, and offers several stages with live music from various bands.
California Center for the Arts Escondido 340 North Escondido Boulevard Escondido, CA 92025 800-988-4253 artcenter.org
Legoland California
Legoland California, the amusement park featuring Lego block toys, puts on a Kids' New Years Eve party. This Carlsbad event offers events much earlier on New Year's eve than most other venues, so kids can have fun without being out all night. Legoland provides music shows including kids' bands, and supplies child size party hats and bracelets. Legoland offers fireworks and also provides special viewing glasses that protect kids' eyes from the bright fireworks displays.
Legoland California 1 Legoland Drive Carlsbad, CA 92008 760-918-5346 legoland.com
Catamaran Resort Hotel
The Catamaran Resort Hotel and Spa offers New Year's Eve Events. This Hotel offers a beach party, with lots of bands playing in multiple rooms. The Catamaran provides buses that pick revelers up in locations around San Diego, so transportation will not be a problem. Rooms are available at the Catamaran although they are expensive since this is a resort hotel. The Catamaran doesn't put on its own fireworks show although the beach location makes it easy to see many of the other fireworks performances around the city.
Catamaran Resort Hotel 3999 Mission Boulevard San Diego, CA 92109 858-488-1081 catamaranresort.com
Hilton La Jolla Torrey Pines
The Hilton La Jolla Torrey Pines also provides New Year's festivities. This hotel is located near the University of California, San Diego, so a lot of university students are around. Shows feature live bands, Djs, and special visual effects such as laser light shows. The Torrey Pines Hilton is across the road from the Torrey Pines Golf Course, and the elevated location of this event, since the hotel is located on top of a large hill, provides a good vantage point to see light displays and fireworks from other events in San Diego.
Hilton La Jolla Torrey Pines 10950 North Torrey Pines Road La Jolla, CA 92037 858-558-1500 hilton.com