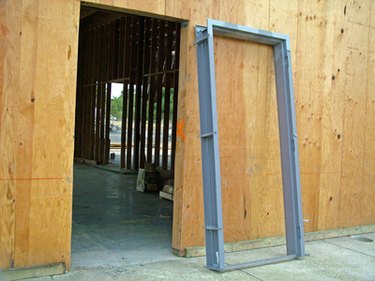 Door frames provide support and flexibility to the door. Different types of doors like sliding doors, glass doors and wooden doors can be made stronger with metal door frames. Metal door frames provide reinforcement and are long lasting compared to other materials. Metal door frames don't expand in cold weather, like wood frames; this makes them leak free.
Aluminum
Aluminum door frames best suit sliding doors, although they can also be used on regular swinging doors. Aluminum door frames undergo electrophoresis treatment and are anodized and powder coated for longer life. These frames are typically made from aluminum extrusions. Mostly fitted with glass doors of 4mm to 6mm thickness, they can be framed over other doors like PVC. Aluminum door frames have excellent water and air tightness, noise insulation, heat resistance and wind resistance properties. These frames are easy to install, are fire retardant, and when powder coated properly, they are scratch and corrosion resistant.
Hollow Metal
Hollow metal frames are made from 12-, 14- and 16-gauge cold rolled or galvanized steel. These are designed in different forms like knocked-down, welded or cut-and notch, and styles include double egress, communicating, single rabbet, equal rabbet , and cased opening frames. The style of frame is chosen based on the type of door that is hung. Hollow metal frames have sharp, crisp corners that give a tidy appearance. The frames are painted with anti-rust primer to make them weather proof. These frames are primarily used in commercial and institutional buildings.
Stainless Steel
Stainless steel frames are strong and sturdy compared to other frame types. These are made from 14-, 16- or 18-gauge steel. These frames are aesthetically pleasing, corrosion resistant, and can withstand fire for up to three hours. Stainless steel frames can be used indoors as well as outdoors. Stainless steel door frames can be given different types of finishes like a mirror finish, mill finish or satin finish; these are not painted or coated. The frames should preferably have seamless edges which are obtained by continuous welding of the vertical edges. This is done so the corners don't split with regular wear and tear. Stainless steel frames have a longer life compared to any other door frame material.