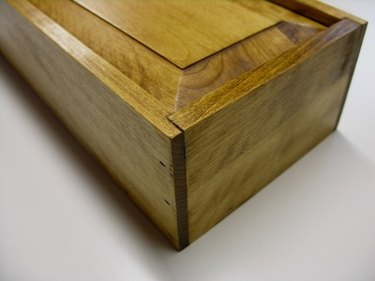 Woodworking is an enjoyable hobby, but it could also turn into a profitable career if you decide to take that route. If you have a little shop space available and a basic assortment of woodworking tools, you could be turning your hobby time into side income at garage sales, the local flea market or even through online sales at your own website.
Jewelry boxes
Small containers such as jewelry boxes are always in demand. When building such boxes, use designs that are appealing, such as heart-shaped boxes, or trapezoid designs intended to fit into confined areas. Begin with two or three designs that can be produced rapidly from pre-cut pieces, and build your inventory as new design ideas come to mind.
Yard decorations
There are many popular woodworking ideas for decorating the lawn or garden. The simplest forms are simple animal or flower-shaped cutouts that can be painted and placed strategically. Other ideas might include wooden wind vanes such as an airplane or windmill. Bird feeders also fit into this category and can be easily constructed from wood scraps left over from other projects.
Shelves and cabinets
Free-standing shelves are something that everyone needs, but smaller shelves that can be hung from the wall and used to display collectible items are more affordable and easier to transport. For online sales, the smaller display shelves and cases offer a higher return on your investment, and one or two simple designs can be expanded to a complete lineup of wall shelving that can be modified for unlimited uses through shelf arrangements and paint or stain choices.
Swings and chairs
Hanging swings and rocking chairs are both relatively simple woodworking ideas that can be built and offered for sale. Where seating is concerned, you can let your imagination run wild and create picnic table designs, garden benches, or any type of chairs or swings you enjoy the most. Make some child-sized furniture in addition to building for the adults. Children love to feel special, and having a chair or swing that is built for their size is one way to give them that special feeling.
Mailboxes
Decorative mailboxes are another great idea for woodworking ideas to sell. Instead of building a plain box, consider a barn-shaped mailbox complete with red and white paint and a cedar roof made from small pieces of ordinary cedar shingles. Keep in mind a mailbox is a rare purchase for most people, and supplement your mailbox sales with other woodworking ideas, such as yard decorations.