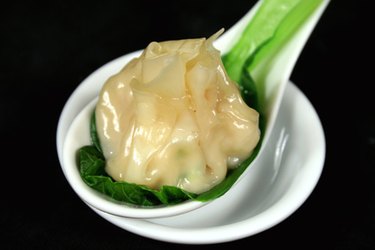 Flat-bottomed Asian soup spoons make elegant containers for bite-sized appetizers of any sort, whether for a buffet, a cocktail platter, or to formally begin a dinner party meal. They're especially useful for starters that are a little saucy or otherwise too messy to be appropriate finger food. Asian soup spoons can be found in both plastic and porcelain, with the latter being more formal, of course. The appetizer nestled within can be either Asian-inspired itself, or Western in flavor--or an interesting cross-cultural fusion.
Ceviche
Ceviche is a raw fish dish that originated on the West coast of South America. Chop or cube various fish or shellfish (usually scallops or shrimp) and marinate in lemon or lime juice, which "cooks" the flesh lightly. Add onions or scallions, chili peppers, and other ingredients--there are countless variations. Place a small scoop of ceviche in the bowl of an Asian soup spoon for an classy and delicious starter.
Poke
Poke (pronounced poh-kay) is a Hawaiian dish commonly made of cubes of raw tuna, seaweed, soy sauce, and sesame oil. There are other variations worth exploring as well, including a popular version with octopus. Unlike ceviche, poke remains completely raw, so be extra-careful when handling this dish. Place a small scoop in the bowl of an Asian soup spoon.
Meatballs
Meatballs moistened with a little sauce make a great appetizer to sit in a spoon. You can go with traditional Italian meatballs and marinara sauce, or look to the Middle East for lamb meatballs and a yogurt sauce. For an Asian accent, try Vietnamese-style meatballs and dot with chili sauce.
Ravioli
Place a single raviolo in the bowl of the spoon and top with a bit of broth or sauce. You can either boil the ravioli as is traditional, or, for a fun variation, toast them instead.
Wontons and Dumplings
If you want to maintain your Asian theme with the food as well as the silverware, there are a number of Chinese wontons and dumplings that are the perfect fit for an Asian soup spoon. Garnish with a snippet of chive--flat garlic chives would be a harmonious choice here.
Quail Egg
Place a boiled, peeled quail egg in the bowl of an Asian spoon. You can garnish this in several ways. Sprinkle with a gourmet sea salt or flavored salt; top with a strip of chive and a sliver of bacon, crossed; or add a dollop of flavored mayonnaise or other sauce on top.
Marinated Mozzarella
Mozzarella balls, or boccocini, marinated in olive oil, herbs, and red pepper flakes, fit perfectly in an Asian spoon. Garnish with a whole basil leaf. Cubes of feta can be similarly marinated and served.
Corn Salsa
Serve up a scoop of corn salsa in a spoon. For the salsa, combine corn, chiles, minced red onion, cilantro, and lime juice; add avocado if you like, too. Garnish with a sprig of cilantro.