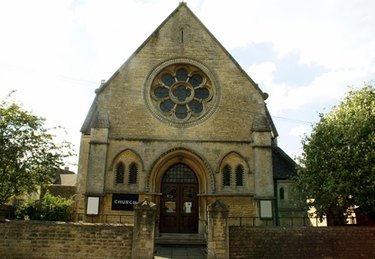 Coming up with gifts for every member of a church congregation can get pricey, as congregations can range from 80 to 200 people. You want each gift to be appropriate and fair, yet you most likely to want to end up spending an exorbitant amount of money. It's easy to pick out one gift that you can buy in bulk that will modestly act as a token of the Christmas season for each congregation member.
Communal gift
Instead of purchasing individual gifts for each member, one big gift that can be appreciated by all may perhaps be the easiest type of gift to give. Pay for lanes at a local bowling alley on a designated night. Ask congregation members to rent their own shoes but pay for drinks and appetizers. It will be a nice way for everyone to socialize and have fun outside of mass. Organize a church potluck and have the church pay for the wine and dessert as a gift to the congregation. Ask everyone to bring a dish. Another communal gift could be a new coffeemaker or an espresso machine for the church basement or kitchen so that all of the congregation could enjoy it during the post-mass coffee hour. Announce your chosen communal gift after one of the masses or print it in the church bulletin.
The Spirit of Giving
Make a donation to a certain charity in the name of your church's congregation. Once you receive that official letter, confirming this donation, you can simply frame it and display it in your church rectory, rec hall or basement. You can make an announcement about it after mass or have a few sentences printed in the church bulletin.
Individualized Gifts
Small, meaningful trinkets are a simple way to extend Christmas cheer to each member of your congregation. A tasteful candle is a suitable gift, as is a miniature Bible on a key chain. Bookmarks with religious figures or quotes from scripture are tasteful gifts as well. Icons or prayer cards are useful gifts that most members of the congregation will probably appreciate. You can buy all of these items at a religious or Christian bookstore.
Baked Goods
Baking something special for the congregation is an undemanding and unfussy way to extend your appreciation and warm Christmas blessings to the congregation. You can bake Christmas cookies, such as cookies in the shape of an angel and tell the congregation that for Christmas you've made them each a guardian angel cookie. Alternatively, you can bake large pies or cakes and encourage everyone to have a slice. The things you bake don't necessarily have to have a Christmas theme; they just need to be a special treat apart from the everyday.