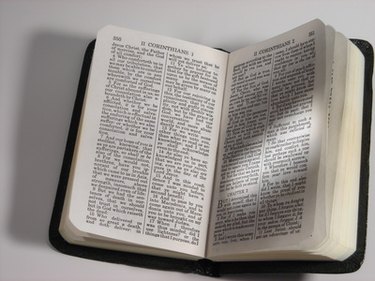 Teach small children about the Bible's important messages and characters through crafts. Crafts are an interactive way for toddlers to learn. Such projects also can help hold a child's short attention span. Choose crafts for 2- to 3-year-olds and incorporate the projects into your Biblical lessons.
King David's Crown
Use this craft with the story of David and Goliath. David was a young warrior who defeated Goliath, a man described as a giant. David later became the king of Israel.
Before class, make child-size crowns out of yellow construction paper. Add points--cut upside-down triangle shapes out of the top of each crown.
While listening to the story, have the 2 and 3-year-olds decorate the crowns with crayons and stickers. Glue the ends of the paper together to make a crown. Send the crafts home with the toddlers.
Joseph's Coat
The Bible includes a narrative about Joseph, the eleventh of 12 brothers born to Jacob. Jacob favored Joseph and gave him a coat made of many beautiful colors. Joseph's brothers were jealous and sold Joseph into slavery behind Jacob's back. Teach young children an easy craft that goes along with this story.
Cut out small, simple coat patterns--one for each child--from white cardstock. Give each student small squares of tissue paper in various colors. Help each child make her own coat. Glue pieces of tissue paper to the coat cutout.
Cross Craft
The cross symbolizes Jesus's death and his return to life after death, as described in the Bible. Introduce this important symbol through a craft for 2- and 3-year-olds.
Cut out a cross shape from construction paper or cardstock--you will need one shape for each child. Give the toddlers such supplies as crayons, stickers, glitter and tissue paper. Help each child decorate his cross.