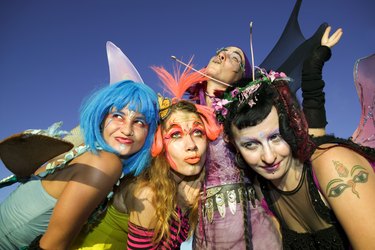 Dr. Seuss' "How the Grinch Stole Christmas" and "Horton Hears a Who" are holiday classics that will never lose their appeal. This year, you might need Whoville characters for a play, pageant or parade or just for fun. Whoville people all look related to one another, but they come in different shapes and sizes. Fortunately, making a Who from Whoville costume of any kind is not overly complicated.
Finding Whoville Characters Images
Even if you recently watched the TV specials, you might not recall what a Whoville person looks like. While there are quite a few different characters in this movie, the main ones include the Grinch, Cindy Lou Who and of course Max, the dog. Others include the mayor of Whoville and his wife as well as Boo Who and grandma and grandpa.
Once you pick out your characters, study what they wear and browse your closet to see if anything you have could be part of a Whoville costume. Otherwise, make a run to a thrift shop to find clothing and accessories. Whoville characters tend to wear old-fashioned suits and dresses in bright, solid colors, like yellow, orange and purple, plus polka dots and stripes. You could match up an orange dress with red and white striped tights, for instance, or a purple suit with a white shirt and bright red bow tie. The adult women generally have pink or yellow hair, while the adult men have little hair.
You can watch a Who makeup tutorial for creating a Whoville face. You can apply an adhesive on and around your nose and attach a prosthetic made to resemble the typical pointy, small-nostril Who nose. You can blend this makeup with witch hazel. Then, cover it with foundation and powder and add red blush to make apple cheeks. You can use heavy eye makeup for the classic Whoville wide-eyed, innocent look.
Popular Whoville Characters
Cindy Lou Who is a definite Whoville costume favorite. To create her Christmas Eve attire, you will need a medium-pink, full-length nightgown with long sleeves and ruffles on the bottom, sleeves and neck. Her short blond hair is left hanging down, with two small red bows on top of her head on opposite sides.
She also has small antennae. To make these, get a plastic hairband and glue on wire to resemble hers. They are typically portrayed as being straight up halfway and then bent horizontally and formed into little waves.
Another Cindy Lou costume idea is red-trimmed with white fur and a ribbon. For such costumes, the hair is the real showstopper. You can place a paper cup on top of the head and pull the hair up and over it, securing it with a hairband. The rest of the hair can be curled, twisted, braided and decorated around the tall part.
Grinch and Max Costume Ideas
For a Grinch costume, you can buy neon green pants and gloves plus a Grinch mask. If you are good with makeup or don't wish to wear a mask, you might be able to replicate his face. Aside from this, you'll need a Santa jacket, a Santa hat and some green or red elf shoes.
If you have a dog, he can wear a Max costume. Simply attach reindeer antlers and a red nose if your pet will let you get away with it.