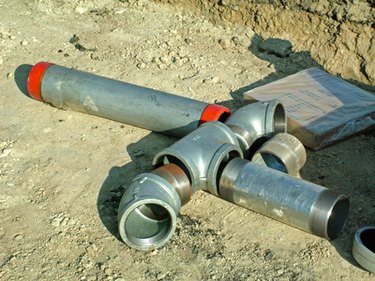 Septic systems are an option for residents in areas not serviced by municipal sewage service. When installed and maintained properly, they can be just as reliable as conventional sewage systems. However, it is important to follow the laws put forth by Kentucky's Department of Public Health to ensure that your septic system installation is not only legal, but safe and hassle-free.
Applying for a Site Evaluation
The first step toward installing a septic system on your property is to contact your local health department. You will be provided with an application that you must fill out and submit requesting an evaluation of the site where you would like to install the septic system. In addition to any required fees, the application must also include a detailed drawing of the proposed site, including property lines, the placement of any structures on the property, driveways, ponds, streams and the site of the proposed septic system. After your application has been processed, the local health department will send a certified inspector to your property to test a variety of the site's characteristics, including topography, the position of the landscape, the soil's structure and texture and other factors related to water drainage. This will help the inspector determine if the site is suitable for a septic system and if so, which kind.
Obtaining a Permit
After a site evaluation has been performed by the local certified inspector, you will be provided with a copy of their findings. This must be provided to the certified installer that you have chosen to perform the work on your property. The installer cannot make a bid on the job without first seeing the results of the evaluation. Once the installer is prepared to bid on the job, the installer must provide the certified inspector at the local health department a drawing of the planned installation for approval. Only once the installer's plans have been improved by the local inspector will a construction permit be issued by the health department. You will be required to pay a fee for this permit and it is important to remember that the permit is only valid for one year.
System Inspection
After the construction of your septic system is complete, the local inspector will have to return for one more inspection to make sure the system meets the requirements outlined in both the initial site inspection and the construction permit. If so, the inspector will issue a final approval of the new septic system and you'll be free to begin using it.