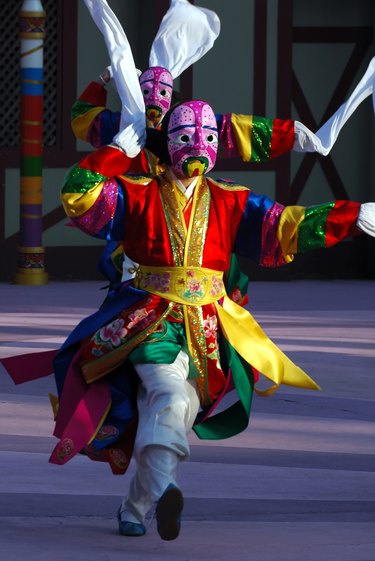 Handcrafting traditional South Korean crafts is a great way for kids and adults alike to learn about the country's culture, heritage and customs. These easy crafts can be used at the end of school unit studies, or to introduce South Korea as a subject matter. Many South Korean crafts, such as sogo drums and Hahoe masks, can be created in conjunction with lessons on recycling.
South Korean Sogo Drums
Handheld South Korean sogo drums make easy children's craft projects. They can be fashioned from recycled oatmeal containers or other round, cylindrical containers. Cut down the containers so that they resemble round, tambourine-shaped drums. Tape can be used to create the drum's surface. Add construction paper over the tape to create a flat, colorful playing surface. Construct handles from chopsticks, dowel rods or sticks. The South Korean sogo drum can be adorned with yarn, ribbons or tassels.
South Korean Sam Taeguk Fan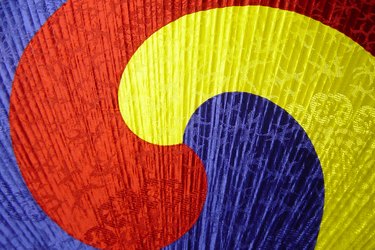 This traditional hand fan, decorated with a patriotic "Taeguk" swirl, is a great South Korean craft that is both festive and useful. The fan usually has three rounded edges and one flat edge. Fashion the Sam Taeguk fan out of construction paper, crayons and popsicle sticks, or make a more elaborate version with acrylic paper, acrylic paint and paint-stirring sticks. Decorate the Taeguk with yellow, red and blue, or use just red and blue to echo the South Korean flag.
South Korean Hahoe Mask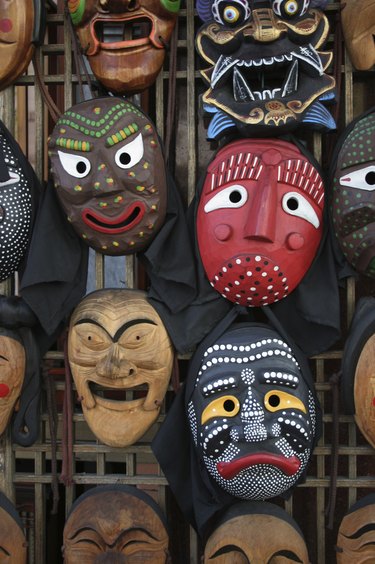 Older children can construct a more elaborate South Korean craft such as a Hahoe mask. The Hahoe are beautiful traditional masks and can be created from paper mache. Hahoe masks are grotesque representations of human faces, so let kids use their imagination when designing their masks. An inflated balloon works well to create a basic mask shape. Water mixed with flour or glue can be used for paper mache glue. Strips of paper soaked in the glue mixture are placed across the balloon shape to build up the mask's facial shape. Use acrylic paint to decorate the masks once they are dry.
South Korean Lotus Lantern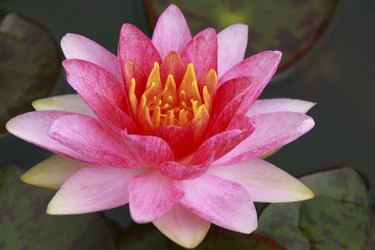 A lotus lantern is a simple but elegant South Korean craft. It is made out of tissue paper, a small paper drinking cup and a tea-light candle. Cut pink and orange tissue paper into 2-inch teardrop-shaped petals and, with hot glue, apply to the top, sides and bottom areas of the paper drinking cup. Cut green tissue paper into 3-inch-long teardrop-shaped leaves and hot glue to the bottom of the paper cup. A tea light, inserted through a hole in the bottom of the cup, makes the lotus flower glow. This craft will need lots of adult supervision if completed with younger kids, but works well for children preteen and older.