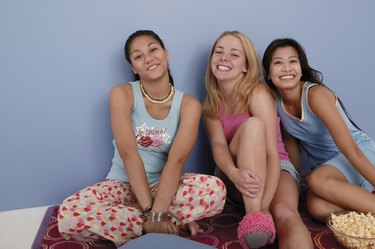 Plan some games to keep your guests occupied and entertained for a 13th birthday sleepover. Games should be safe for all of the guests, yet provide a fun experience they can laugh and reminisce about for years to come. Most 13-year-old teens will want some privacy during their sleepover, so plan games the kids can play without supervision, although checking in on them from time to time is a must.
Day at the Spa
Set up a day at the spa activity to allow the girls to be pampered as they gossip, or plan for a larger theme, such as a glamor or movie star night. This is more of an activity than a game, but many teenage girls would enjoy the activities. The girls can give each other facials, manicures, pedicures and do each other's hair, or a couple of adults can be enlisted to pamper the girls.
Dress-Up
Playing dress-up can take on many different forms. For example, large bins or buckets can be filled with different material and funky accessories. Separate the girls into smaller teams and give them each one bucket to work with. Have them create runway fashions out of the bucket that one team member will model for the other groups. Or let the girls dress up in fancy gowns and high heels, such as a red carpet event.
Murder Mystery
Plan a murder mystery game for the entire party. This works for girls, boys or even a co-ed party (with adult supervision). Each guest is given a particular role to play at the party and should come in costume if possible. Create your own game or order an age-appropriate game from companies that specialize in murder mystery games.
Scavenger Hunt
Plan a scavenger or treasure hunt in advance. Hide clues and assign certain items or plant treasure bags that guests have to find. This works best if you split the guests into two or three teams. Use your entire house, yard, garage and include some neighbors if they wouldn't mind.
Talent Show
Split the guests into small groups and allow them to pick their talent or randomly assign a task. For example, write out different themes or performances that can be drawn from a hat. This might include a short comedy skit, a song, dance, rap or exercise routine.
Make a Memory
Allow each guest to make something that will serve as a party favor and memory. For example, guests can decorate white t-shirts or pillow cases or make mini-scrapbooks. Take pictures of the entire party that can double as thank-you cards after the party.
Movie or Game Marathon
Gather tons of movies, video games or board games and write down the names of each. Put them in a hat and draw the papers to decide on which game or movie is first. Turn this into an all-night marathon to see who can stay up the longest.