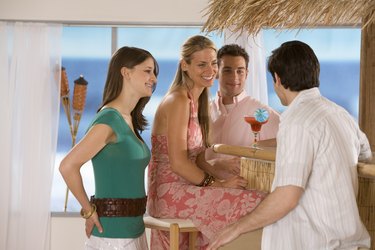 A cultural or international-themed event allows your guests to travel to exotic new places without stepping on an airplane. These events can be as simple or as elaborate as your budget and creativity allows. When planning international-themed events, most people immediately think of a Mexican fiesta, Hawaiian luau, Chinese New Year's celebration or an Italian pizza and pasta party. When planning your cultural event, consider some unique themes.
April in Paris
Who wouldn't want to spend a day in the City of Lights? Decorate the room with posters of Paris and pots of tulips and hyacinth. Drape wisteria over metal or wood lattice panels. Use round café-sized tables with Eiffel Tower-shaped votive candles. Play French background music by Yves Montand, Charles Aznavour, Jacques Brel or Mireille Mathieu. Make place cards from old postcards of Paris. Serve a variety of French wines and cheeses complemented by strawberries and slices of apples and pears.
A Cruise Down the Nile River
Take your guests back to ancient Egypt with this party. Check with your party rental agency for things that you can adapt to create an Egyptian environment, like stone pillars, palm trees and canvas desert-style tents. Play a travelogue DVD on Egypt during the party, projecting the images on one large blank wall. Cover tables with brown craft paper and sprinkle sand on them. Serve platters of shish-kabobs, pita bread dried fruit. How about a pyramid- or sphinx-shaped cake?
Russian Winter Wonderland
This party captures the romance of Doctor Zhivago. Place evergreen trees around the room. Sprinkle them and the floor with artificial snow. Cover tables with white fleece; sprinkle with iridescent glitter. Suspend plastic snowflakes from the ceiling at various heights. Decorate one corner of the room with a real troika or horse sleigh. Lightly spray windows with artificial ice crystal spray for a frosted windowpane look. Play "Lara's Theme" and other music from Doctor Zhivago during the party. Serve tea from a samovar. For appetizers, serve crackers topped with caviar or smoked salmon. The menu could also include beef stroganoff and cherry-filled blinis.
Midnight at the Oasis
Start with a large canvas tent or drape fabric from ceiling to create a tent effect. Remove all furniture and cover floors with carpets and large velvet cushions. Place pots of palm and fern plants around room. Serve food on low coffee tables illuminated by oil lamps. Serve al-kabsa, a traditional Saudi chicken and rice dish. A CD of Middle-Eastern music will add an exotic ambiance to the party.
Venetian Carnival
Decorate as elegantly as your budget will allow. Rent a backdrop with an image of a Venetian canal or the Rialto Bridge. Your party rental store may also have a gondola available, which would be great for guest photos. Drape tables with black and white harlequin-patterned tablecloths and include centerpieces made with ostrich feathers and Venetian masks. Serve Venetian cicchetti (appetizers) like fried crab claws, marinated sardines, calamari, veal meatballs or stuffed porcini mushrooms. Don't forget to serve Spritz, Venice's most popular drink, which is made with white wine, mineral water and Campari aperitif.