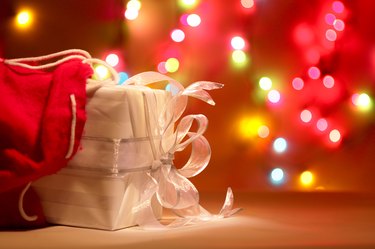 Buying a Christmas gift for a 25-year-old male is a challenge because there's no set type of item that appeals to all adult males. A man of 25 can have a whole range of personalities and maturity levels, from frat boy to professional businessman to devoted husband and father. The best way to approach this type of gift giving is to think about his personality and buy a gift that reflects your knowledge of his interests.
The Professional
At the age of 25, a lot of young men are entering the professional workforce. Gift ideas for young professionals include ties, dress socks, dress shoes or cuff links. You can also purchase a briefcase or laptop case personalized with his name or initials. A suit or a gift card to a clothing store that specializes in professional attire can help him round out his work wardrobe.
The Gamer
The 25-year-old gamer will likely appreciate the hottest new game for his system. The game you choose will depend on the gaming platform he has. Purchase the strategy guide with the game to help him learn tips and tricks that make playing more enjoyable. If he's pretty stocked up on games, try gaming accessories like controllers, memory cards, steering wheels or head sets.
The Techie
If the 25-year-old in your life is a technology fanatic, look for the latest hi-tech gadget to hit the shelves. Look for upgrades and advancements in products like smart phones, GPS, computer media storage or hand-held entertainment devices. Consider a gadget accessory like a smart phone case or a multiple-gadget charging station.
The Music Lover
Feed your music lover's habit with an iPod or other personal music player. Buy him a subscription to a music service like Rhapsody or an iTunes gift card. High-end headphones can provide new definition and clarity for his favorite songs. If he's already stocked up on music and players, consider giving him concert tickets to his favorite band.
The Athlete or Sportsman
Sporting goods stores are a gold mine of gift ideas. Sports equipment, from basketballs to golf clubs to skateboards, is always popular choices. Accessories like apparel, protective gear, stopwatches or hats make good gifts. You can also purchase hunting and fishing equipment, like vests, guns, ammo and binoculars.