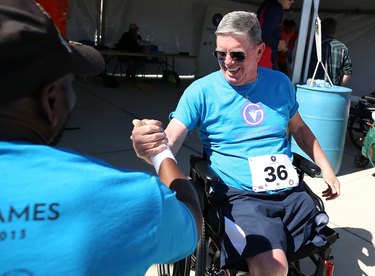 Veterans Day is a time to honor the courage and sacrifices made by the military personnel in our lives. Serving in the armed forces and going to war are perhaps the most memorable, life-changing experiences in a veteran's life. Commemorating the day with a gift lets your veteran know that you understand the importance of his service.
Commerative Tree
Many community organizations, schools and local governments honor veterans by planting trees in their honor. You can do this at home for your veteran. This is a living-legacy gift, meaning for as long as the tree grows, which is potentially hundreds of years, it serves as tribute to the veteran. Some people who plant a tree to honor a veteran include a plaque at the base of the tree so passersby and future generations know the significance of the tree.
Memorabilia Preservation
If your veteran is a decorated hero, have her medals, patches and other memorabilia properly preserved and mounted in display cases. This also applies to letters to home, old newspaper clippings or pieces of old uniforms. If most of the memorabilia is paper, frame the papers or bind them in a scrapbook or memory book.
Documentary
Cable television channels produce documentaries about wars, military events and the people who serve. Gift your veteran with documentaries and films about his unit or the war he was in. Some veterans may be uncomfortable reliving their military experience in this way, so take that into consideration before giving this type of gift to someone you don't know well.
Engraved or Personalized Items
Medallions, dog tags, commemorative coins and patriotic-themed jewelry can be inscribed with the veteran's name, unit, dates of service or other accomplishments. Purchase a matching item and wear it to show your support.
Letter Book
If you know any of your veteran's service buddies, collect written accounts of their times together. These can be your writings from interviews or a letter from each person. The letters go together in a custom book presented to your veteran. Include letters from non-military friends and family who write letterd expressing gratitude to their veteran.