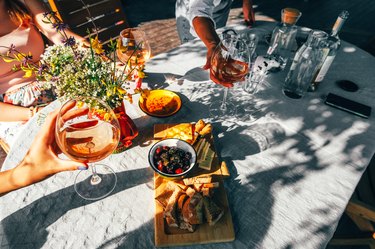 There's nothing better than sitting down to a traditional Italian meal and being served the first dish. That first dish is often called antipasto, also known as antipasti. You may wonder what the difference between antipasto and antipasta is, and the answer is straightforward.
Antipasta is often used interchangeably with antipasto, but the word is not an actual Italian word. It is an inaccurate derivative of the real word that English speakers have made for years. It's believed that the word was mistranslated or misheard, and the English language adopted antipasta as an acceptable replacement.
But what is antipasto, and what is antipasti? Antipasto in Latin means "before the meal," with ​ante-​ meaning before and ​pastus​ meaning food. Antipasti is the plural of antipasto. This traditional Italian course is meant to be shared and often includes meat, cheese and olives.
Traditional Antipasto Dishes
If you've been to an upscale Italian restaurant or just to your Italian friend's home for dinner, you know the fantastic spread put out as the first course. Usually served on a large platter or board, yesterday's antipasto is what is often called a charcuterie board in the present day. These platters include specialty cured meats like prosciutto and salumi, fresh and aged cheese and sometimes preserved fruits or vegetables. This first course is meant to stimulate the appetite for the coming meal.
While traditional antipasto consists of a platter of cured meat and produce, other dishes can be served as an antipasto course. These include bruschetta, a toasted piece of bread with tomatoes and olive oil, or a Caprese salad, which is a combination of fresh mozzarella with tomato and basil. These simple plates are offered for each member of the dinner party to take and pass. The antipasto course should be light and not too filling.
Antipasto in Medieval Italy
You can trace antipasto back to the times of Medieval Italy. Meals in that time were often served with the traditional antipasto course. During this time period, people dined on sweet and savory finger foods like sugared nuts and sliced ham. This course served the same role as antipasto today: it prepared guests for the meal ahead. According to historians, these early variations of antipasto used components served at room temperature, requiring no heat or preparation.
In addition to exciting taste buds and creating a communal meal, medieval Italians also used antipasto to awaken the senses. Like today, they served food with different taste components like sweet, salt, bitter and sour. They ate sugared nuts like walnuts and almonds to satisfy their sweet tooth. They also used pickling as a preservation technique, often using salt brine with vinegar, lemon and sometimes fresh herbs. These pickled vegetables became a staple of the antipasto course.
Regional Italian Antipasto
Regions in Italy often differ from each other in the way they present their food. While the intent of the antipasto course is still the same, to fill guests with anticipation and good food, the food served varies considerably from region to region. The regions in Italy are often grouped as Northern Italy, Southern Italy and Central Italy.
Northern Italy runs alongside the Alps all the way to the Mediterranean and Adriatic seas. Experts note that this region often uses creamier cheeses from its dairy region and fresh herbs and oils from its southern areas. The central region is home to cities like Tuscany and features fresh vegetables and fruits like perfectly ripe tomatoes. Southern Italy, with its islands of Sicily and Sardinia, focuses on more meat-filled courses and fresh seafood. While they may serve different types of meats and cheeses, these antipasto courses are all offered as finger foods, helping to create a sense of community among diners.