Drywall texture adds visible interest to a wall, disguises visible joint taping seams and adds character to a room. Many different types of textures are used, some applied by hand and others sprayed on with a hopper. The most common compound used to create texture is joint compound. The plaster product dries white but can then be painted any color. Additional interest is added to texture when metallic or solid color glazes are washed onto the walls surface, highlighting the textures details.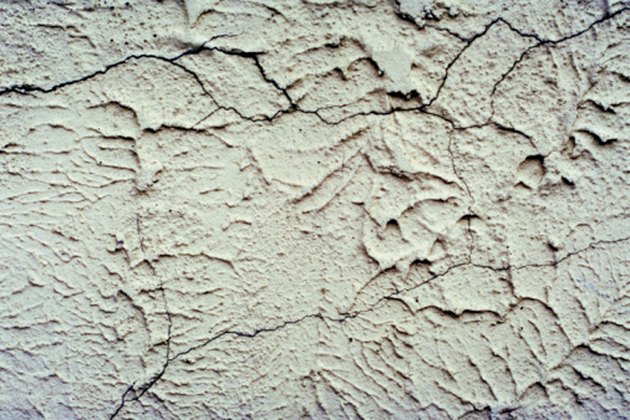 Types
A variety of different textures are available to cover your walls. Depending on where you live in the U.S., similar textures may go by different names. A favorite knockdown texture in Florida is called "Spanish lace" but goes by the name "executive finish" in Iowa. One of the most common paint finishes is the acoustical finish known as the "popcorn" finish, common on ceilings. The material is sprayed on, and small peaks are left on the ceiling. On walls, a variety of finishes are troweled on, or the plaster is sprayed on by hand and then manipulated.
Materials
Joint compound is the most common product used to create texture on walls and ceilings. The plaster is inexpensive and readily available at nearly all home improvement stores. According to HomeDepot.com, a 5-gallon bucket of premixed joint compound costs around $11 as of July 2011. A sprayer is often used by professional drywall artisans; however a trowel is used for a more custom, hand-applied finish.
Pros and Cons
Most texture finishes are simple and, after a bit of practice, most homeowners can complete the project on their own. The finishes add additional sound barriers to a room and bring warmth and texture to a room's interior design. Drywall texture, once painted, may chip, and a glaring bit of white may show underneath. Touch-ups with paint may be necessary. Joint compound is a soft plaster and does not hold up well in high-traffic areas. Some faux artisans use additional, harder plasters for these spaces, but the cost is significantly more.
Painting
When painting the textured walls, the plaster will absorb more paint than when painting a smooth wall. The wall texture may quickly absorb the first layer of paint and often a second and third layer are required. Always use a thick roller made just for textured walls. Once you have rolled on a solid coat of paint, use a sea sponge to dab on paint into heavily textured areas where the roller is not adding paint.