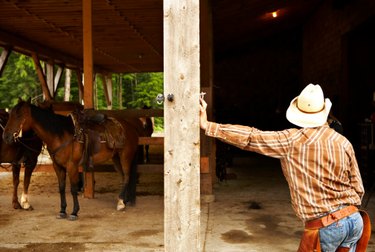 A pole barn is supported by poles along the sides, back and front and can be partially or fully enclosed. Because of this versatility, you can design your pole barn in any size and can build it yourself, hire someone to build it or order a pole barn kit. While there is no average measurement, you will find that companies who offer pre-fabricated kits or pole barn design and building will offer typical sizes that accommodate a variety of uses.
Benefits of the Pole Barn Design
One advantage you have with a pole barn is versatility; it can be easily customized to accommodate a variety of uses, from equipment and machinery storage, to livestock shelter. You can enclose the pole barn on one or more sides, or leave all sides open, to offer a convenient run-in shelter for horses or other livestock. By adding exterior walls you have an ideal storage shed for machinery. Further dividing the interior gives you separate rooms for stalls and other storage.
Common Sizes
According to Tom Tower, owner of One Iron Horse Farm in Dripping Springs, Texas, pole barns generally range from a minimum of 8 feet wide by 12 feet long, which is on the very small end, to 24 feet wide by 40 to 50 feet long. Smaller sizes are more common for storage or shelter for small livestock, such as sheep or goats. The larger sizes are multi-purpose for livestock or storage.
Height
Design your pole barn at a height minimum of 8 feet. This will typically accommodate a variety of uses, from livestock shelter or barn to equipment storage. If you order a kit or hire a construction company to build your barn, you will find that 10 to 12 foot wall heights are typical.
Horse Use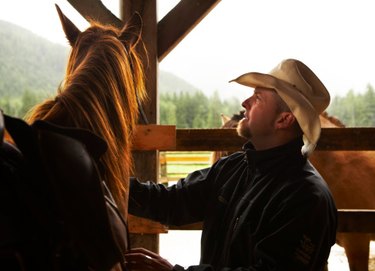 If you use the pole barn as a horse barn, you will want to build it so at a minimum it is the size of an average horse stall. The College of Agricultural Sciences at Pennsylvania State University notes that a 12-foot by 12-foot stall is typical for a horse weighing 1,000 pounds. A good rule of thumb is to design the stall at one-and-a-half times your horse's length. You will thus design your pole barn depending on the number of stalls you want, as well as any additional room for feed, tack or other storage.