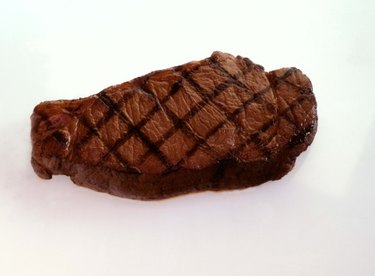 A New York strip steak, also known as a Kansas City steak, boneless club steak, ambassador steak or a veiny steak, is a boneless piece of meat coming from the middle of a cow's back. Since this area doesn't get much exercise, this meat is tender enough to not necessitate marinating but firm enough to stand it. Perfect for grilling or pan-broiling, you can do pretty much anything with this cut except braise it.
Thickness Matters
When ordering meat at the butcher's, stay away from ordering by weight. First ask about the thickness of the meat. What you will be doing with the meat and how you will be cooking it matters when deciding the thickness. If a steak is too thin, it could dry out easily. If a steak is too thick, you will have a hard time cooking it properly. In general, a New York strip steak is around 1 inch to 1 1/2 inch thick.
For a Main Dish Steak
When grilling a New York strip steak, use a steak that is about 3/4 inch to 1 inch thick, according to the Beef Culinary Center. A broiled steak can be anywhere from 3/4 inch thick to 1 1/2 inches thick. Personal preference plays a role, and there is really no wrong way to eat a steak. Sometimes it takes some trial and error before you figure out what your favorite thickness is and how to get it just right.
For Sandwiches and Salads
Steaks that will be cut into strips for sandwiches and salads can be thinner, usually up to 3/4 inch thick. Thinner steaks can cook at a higher temperature than thick steaks. Be careful not to over-cook thin steaks, because thin steaks cook fast and can dry out easily. Try using thinner steaks with marinade or sauces.
Doneness
No matter how you like your steak, you'll want to consider how thick it is and and how well you like it cooked in order to determine cooking time. For grilling, add about two minutes to a 3/4 inch steak and three minutes to a 1 inch steak if you like it medium done instead of medium rare. A medium rare 3/4 inch broiled steak will only cook for about nine minutes, while a medium done steak that is 1 1/2 inches thick will need about 23 minutes.