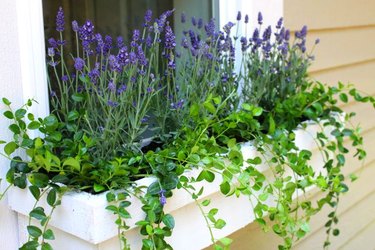 A beautiful window box filled with flowers and trailing vines is a lovely sight from both inside and outside of your home. Perennials for window boxes vary from vines to flowers to succulents. Consider the sun exposure, watering needs and hardiness zones of the plants to ensure a successful progression of flowers and foliage through the year.
The window box environment can be hot and dry. Along with urban pollution and wildlife, such as foraging birds and rodents, planting and maintaining the vines and flowers can be a project. Despite the drawbacks, a window box filled with perennials brightens your vista and can help block passing pedestrians' and nosy neighbors' views into your home.
Before you begin, consider the size and weight of the window box. If you rent, you may need your landlord's permission before installing a window box. Whether you choose a plastic, PVC or wood container, it needs to be secured to the building. It also needs drain holes so the plants don't drown during the rainy season or if overwatered.
Fill your window box with a lightweight, well-drained potting mix or mix your own using equal parts peat moss or coconut coir, compost and perlite. Add and subtract elements as needed. Succulents and cacti, depending on the species, prefer a loose gravel and soil mix to ensure good drainage.
Trailing Perennials for Window Boxes
Small vining plants cascade over the sides of a window box, adding greenery, flowers and visual interest to your miniature garden. Tender perennials include cascading petunias (​Petunia​ spp.) and ivy geraniums (​Pelargonium peltatum​), hardy in U.S. Department of Agriculture plant hardiness zones 10 through 11, and sweet alyssum (​Lobularia maritima​), hardy in USDA zones 9 through 11.
Hardier selections for trailing window box flowers in full sun include creeping phlox (​Phlox subulata​) and trailing verbena (​Glandularia canadensis​), hardy in USDA zones 3 and 5 through 9, respectively, and common periwinkle (​Vinca minor​), hardy in USDA zones 4 through 8. Colorful foliage plants include golden creeping Jenny (​Lysimachia nummularia​) and variegated English ivy (​Hedera helix​), hardy in USDA zones 3 and 5 through 9.
Succulents for Full Sun Locations
A full sun window box may be just the spot for a collection of trailing and upright succulents. Tender plants in individual pots can be nestled into your window box for the summer, then taken inside when temperatures cool in fall. While it is rare for succulents to bloom indoors, they may flower when given full sun outdoors.
Hardy aloes (​Aloe​ spp.), grown in USDA zones 8 through 12, provide the taller element to anchor the plant arrangement. The aloe hybrid 'Blue Elf' grows 1 to 2 feet tall and equally wide in USDA zones 9 through 11, while short-leaf aloe (​Aloe brevifolia​), hardy down to zone 8, ranges from pale blue to pink to golden yellow on its upright curving leaves. Trailing succulents include Corsican stonecrop (​Sedum dasyphyllum​), a creeper that grows 3 to 5 inches tall in USDA zones 7 through 10, string of pearls (​Senecio rowleyanus​), and burro's tail (​Sedum morganianum​), both hardy in USDA zones 9 through 11.
Other Perennials for Planters
The smallest cultivars of hardy hibiscus (​Hibiscus moscheutos​), such as 'Luna Pink Swirl', thrive in full sun and partial shade in USDA zones 5 through 9. While these shrubby perennials grow 2 to 3 feet tall and equally wide, you can pinch the stems back to keep the plants smaller, or use them to block out ugly views and/or too-close neighbors. Combined with trailing perennials like creeping Jenny or English ivy, which also enjoy medium to moist soils, your window garden would be a bright spot in the neighborhood.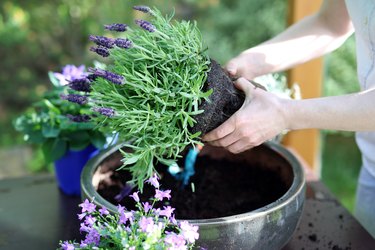 In general, any small perennial with relatively shallow roots will thrive in your window box, provided that you water regularly and select a species and cultivar suited to the environment. Add a few bulbs or annuals as needed to fill in any empty spaces as the perennials grow to their mature sizes.