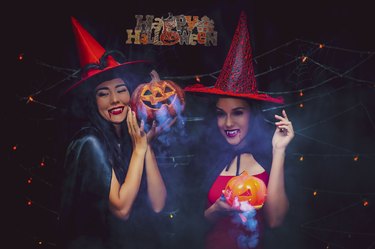 When you're organizing a Halloween event, you don't want to see people wander in wearing their usual jeans and T-shirts. Creating a costume contest is an ideal motivator to make guests tap into their inner creativity. Coming up with a range of Halloween awards categories lets you crown multiple winners at your event and creates some healthy competition among the guests. Announce costume categories in advance to spark imaginations and don't forget to come up with some spookily enticing prizes.
Classic Halloween Costume Contest Categories
When in doubt, choose all the classic Halloween awards categories for your event. Scariest costume, funniest costume, best pop culture costume, most original costume and best homemade costume are all pretty safe choices, which makes these a good selection of costume judging categories for something like a work party or a party where kids will be present. For a small party, you might hand out just a few awards, like best store-bought and best homemade costumes.
If kids are going to be there and will be dressed up, add a cutest costume category or a few best costume categories broken down into age groups. At a large event attended by kids of all ages, awards might be handed out separately for age 5 and under, age 6-12 and teens.
Categories that specifically award the best hair, makeup, props and special effects are also sure to inspire some really creative efforts from many attendees. Just add some safety caveats if you're encouraging people to bring props and use special effects; you probably don't want guests showing up with real swords or their own powerful smoke machines.
Group Halloween Costume Contest Categories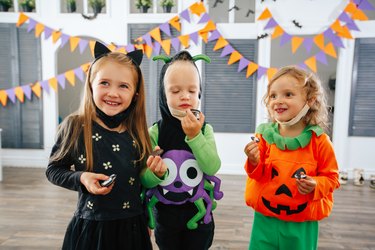 As anyone who has ever been in charge of coordinating a group costume knows, it takes a lot of negotiation and organization. Acknowledge those efforts with special awards for costumes involving more than one person. Best couple costume and best group costume are obvious choices.
If there are going to be a lot of group costumes – like at a large work party where many groups of co-workers will dress up together – you can further segment these categories. Get specific about best three-person group, best four-person group and so on or do categories like easiest group costume and most elaborate group costume.
Outside-the-Box Halloween Costume Contest Categories
Halloween is the time to let your creativity shine, right? Why not encourage guests at your event to come up with costumes they wouldn't normally choose by announcing unconventional costume judging categories?
Depending on the guest list for the event, you might be able to tailor some of the Halloween awards categories to the interests of the guests. For example, if you're throwing a party and know that a lot of your friends love video games, use a most accurate video game character category, or if it's an event that's going to be attended by a lot of foodies, create a best food-inspired costume category. At a party for a bunch of movie buffs, you might go with a category like best costume based on an underappreciated movie character.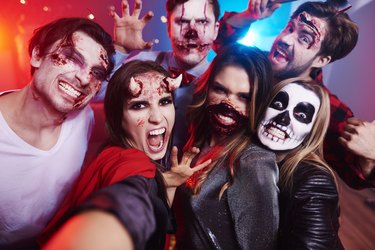 Any number of costume-judging categories might yield interesting or even downright wacky results. How about a most topical category where people are encouraged to wear a costume inspired by something that recently happened in pop culture? Encourage people to access their inner word nerds with a punniest costume category or create a best crossover category in which people have to combine two famous characters into one costume (think Chewbacca wearing Marilyn Monroe's famous white dress). Spark some interesting conversations by creating a most confusing costume award, and all night long, you'll overhear conversations starting with, "Now, what are you supposed to be?"