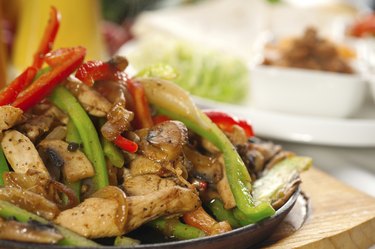 Because fajitas can include a variety of ingredients, it makes sense to set up a fajita bar. This allows your guests to pick and choose the ingredients they want. Feature spicy Mexican flavors and flavorful condiments, as well as a festive atmosphere. Whether you serve traditional ingredients or add elements of surprise into the mix, plan to keep the food out no longer than two hours at room temperature so harmful bacteria don't have a chance to grow.
First Things First
Meats, vegetables and tortillas for wrapping belong at the beginning of the fajita bar. Set up condiments and toppings -- such as shredded cheese, guacamole, sour cream, beans, cilantro and salsa -- at the other end. Separate chicken, steak or shrimp from strips of peppers and onions, so vegetarians and carnivores can easily customize their meal. Use tongs for the main ingredients instead of serving spoons or forks to make serving go smoothly.
Casual and Festive Containers
Fajitas are a casual and fun food, so serve them in the pans you've used for cooking to bring that casual feel to the table. Cast iron skillets, grill pans and slow cookers keep hot foods hot and give the fajita bar a feeling of authenticity. Liven up the bar by placing the serving pans on colorful hot plates or tablecloths. Use colorful bowls for serving condiments, and intersperse the serving dishes with Mexican-inspired decorations and bright flowers. Accent the bar with potted cactus plants.
Food Surprises
There's nothing wrong with skirt steak or chicken fajitas, but it's fun to throw in some surprises along with traditional fare. Grill cabbage and serve it alongside peppers and onions. Serve grilled shrimp or salmon instead of steak. Serve mango salsa in addition to tomato salsa. Pour glasses of crisp Chardonnay, in addition to beer or margaritas. Your vegetarian friends will appreciate tempeh fajitas or crisp-fried tofu cut into strips.
Sweet Finishes
At the far end of the fajita bar, or on a separate table, serve festive desserts either with or without a Mexican flair. A hollowed-out watermelon filled with watermelon, cantaloupe and honeydew balls stirred with lime juice and lime zest provides a refreshing contrast to the spicy Mexican fajitas. Ice cream sundaes with tropical fruit, such as pineapple, mango or papaya, and a Mexican caramel sauce continue the make-it-yourself theme of the fajita bar.