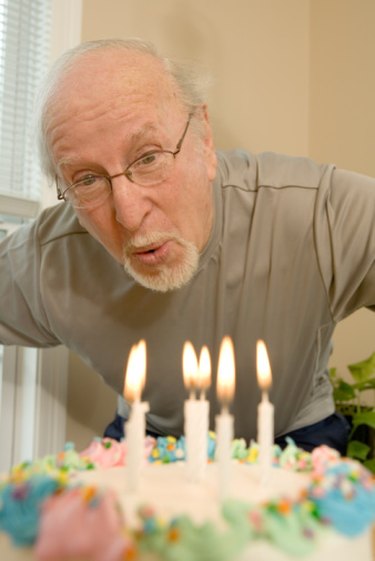 Some occasions, such as birthdays, anniversaries, the founding of a town and various holidays, call for symbolic elements that represent the overall significance and character of the occasion. Objects representing the past, present and future appear at graduations and anniversaries as decorative elements, for instance. In this illustration, if you find yourself uncertain about choosing such items, you can get lots of creative ideas from family and friends that make the celebration all the more meaningful.
Context Matters
Symbolic items vary depending on the culture, situation or person represented. The association in one context makes perfect sense while outside that context no meaning or different meanings apply. For example, a briefcase represents person A's present occupation whereas a hard hat represents person B's vocation. If the hard hat had appeared at person A's celebration, people would not have connected to the object, nor see any meaning in it. So in choosing objects that represent the past, present and future, keep your eye on your framework and apply as much knowledge of that context as possible to the final decisions. Thoughtfulness counts.
Past
The past lays the groundwork for the present and the future. It's a cornerstone. For birthdays, one simple symbol of the distant past would be a pacifier or a favorite child's toy. For anniversaries, mementos from the first date or of the place the couple met work wonderfully. In the case of larger celebrations, like a town's founding, a scale model of the town in its early stages takes center stage. Holidays work similarly. During Christmas put up antique style decorations and ornaments so they whisper of days gone by and family traditions passed down through generations.
Present
It's sometimes difficult to achieve perspective on the present when you're living in the moment. Nonetheless, that very moment surrounds you with all kinds of objects that represent the here and now. Returning to the birthday party concept, if your friend or loved one works in IT, use a live computer screen displaying "Happy Birthday" followed by a PowerPoint slide show with images from around that person's job, hobbies, home and family.
For a wedding it's common to receive the symbol of the present -- or "something new" -- from one's soon-to-be partner. In this case it's not the object so much as the timing that creates the meaningfulness.
Future
Objects representing the future give you a chance to pull back the curtains of your imagination for a moment, peek and then ask yourself, "Where will X be in 10, 20, or even 50 years?" At a baby shower this might translate into the gift of a tree for the mother, representing growth and promise for the future. At a graduation implements that symbolize the person's future goals work as either gifts or decorative elements.