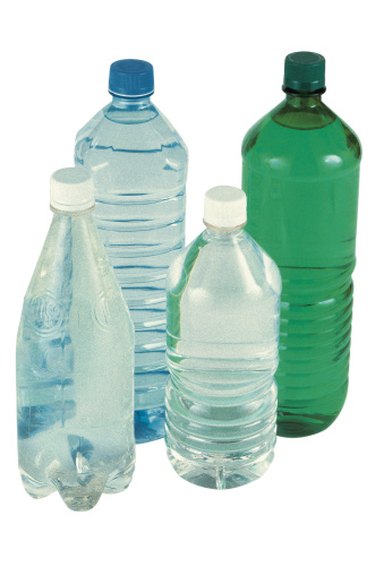 Don't discard those empty plastic soda and water bottles, get creative and make crafty home and garden projects. Keep the bottles intact or use the plastic as a raw material; either way, you can decorate the plastic with permanent markers, spray paint or acrylic craft paint to camouflage the original bottle.
Wind Spinners
Separate an empty plastic soda bottle into thirds vertically. Paint the top and bottom section in one color and the center section in a contrasting color. After the paint dries, slice the center third into 3/4-inch wide increments with a craft knife to make the "wings" of the spinner. Press the top of the bottle down to push the 3/4-inch wide strips outward. Pinch the center of each strip to make a crease in the wind spinner wings. Pinch the top and bottom of each strip in opposite 45-degree angles to help the wings catch the wind.
Bird Feeders
Feed the wild birds on your property with a bird feeder made with an empty plastic water or soda bottle. Decorate the outside of the bottles with bright colors to attract the birds. Cut out two small openings on opposite sides of the bottle, 1 inch from the bottom to give the birds access to the seed. Drill a small hole beneath each hole and insert a 1/8-inch diameter dowel that is 2 inches longer than the width of the bottle through the opposite holes. Position the dowel so the birds have a 1-inch perch beneath each feeding spot. Insert a wire strip through the screw top to hang the feeder.
Crafty Cutouts
Remove the label sleeve or paper from the outside of an empty plastic bottle and slice the bottle open along the seam. Flatten the plastic into a sheet, trace images onto the plastic and cut them out with sharp scissors. Make flower blossoms for an artistic bouquet, decorative plant markers or whimsical hummingbirds to fly around a mobile or a set of wind chimes. Paint the cutouts with acrylics or spray paint, color them with glittery glue or attach flat-back rhinestones with waterproof craft glue to enhance the designs.
Wind Chimes
Decorate a soda bottle with paint, rhinestones, glitter or twigs to make a horizontal header for a set of wind chimes. Cut out and decorate creative shapes to hang on the wind chime strands from empty plastic water bottles. You can also decorate and hang the smaller bottles intact from the larger soda bottle. Fishing line works to suspend the bottles or the cutouts from the horizontal soda bottle. Add craft bells, beads and crystals to each strand to add dimension, music and color to the plastic bottle wind chimes.