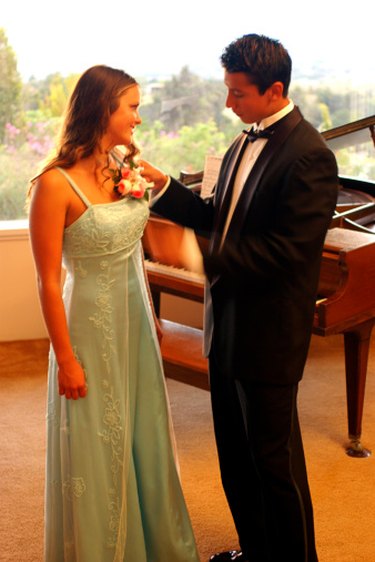 Prom is a special night in a teen's life that many have looked forward to since the time they were young children. Choosing the right person to go with, the right clothes to wear and the right pre-prom restaurant are only some of the decisions that go into the planning for prom. Though the preparation can take weeks, even months, the prom itself whisks by in a matter of hours. As the night begins to wind down, many teens want to extend the fun. After-prom activities are a good way to hang onto the special night and to create more memories.
After-Prom Ideas for Couples
Consider spending some quality alone time together with your date after the prom. Rent a limousine and drive around the city looking at scenery and watching a movie in the back. Stop at a late night coffee house and sip coffee or pop and talk about the night and high school and your future plans. Going to one of the couple's homes is another way to spend some quiet time. Prearrange the activity with both sets of parents and have a cake and ice cream ready in the fridge.
After-Prom Ideas for Small Groups
Prom night is a special night that should be shared with special people. Gather a small group of friends together in an SUV limousine (typically they seat up to 14 people) to go to an all-night diner and a have a midnight breakfast in your prom attire. Another way to extend the party for a small group is to pre-arrange with parents for a small get-together at one of the students' houses. Play games, watch movies and enjoy talking with each other about the night's events. Be sure to take pictures of your after party, as it is likely to be filled with wonderful memories.
After-Prom Ideas for Large Groups
Many schools and towns have sponsored after-prom parties. This is another fun way to extend the fun and to involve a large group of friends. Rent a party bus to transport a large group to the venue. Party buses can seat up to 40 people, so if the group is larger than that, consider having the party bus shuttle people or having people find their own transportation. If the school or town does not offer an official prom after party, consider going to a teen-friendly night club. Another good large group activity is to go camping as a group. Reserve enough camping slips or cabins to accommodate the size of the group. Sing by a campfire and make s'mores. Be sure to have a chaperon or two for safety.
Other After-Prom Ideas
Extend the fun of prom by creating a scavenger hunt for an after-prom activity. Create a scavenger hunt that takes your date to some exciting or sentimental places around the town. The place of a first kiss or a special coffee house make for good locations. Or, hide prom-related items around a parent's home before prom and bring the date home to find the items. Some teens may choose to go home alone and relax after a long night at prom. Individual teens can celebrate alone by writing in a journal, looking at digital pictures and discussing the night with parents, family and friends. Whatever activity is chosen for after prom, have fun and take pictures to help document the special night.