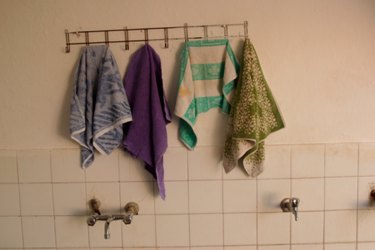 Surfaces subject to consistent moisture exposure require a durable finish that is relatively easy to clean. If you use the wrong type of paint on materials forced to endure wet environments, you can expect finish failure in the form of flaking, peeling, fading and chipping. For a lasting finish able to stand up to wet conditions, choose an adhesive paint that provides a high sheen.
Bathroom Walls
Bathroom walls are subject to consistent humidity that can cause ordinary flat, eggshell and satin latex paint to deteriorate and fade. These low-sheen paints are also far less resistant to mold and mildew outbreaks and require frequent repainting. If you plan to paint a bathroom wall subject to high humidity, choose either a semigloss or gloss latex paint. These finishes will resist premature wear and are much easier to clean than low-sheen finishes.
Showers, Sinks and Tubs
Surfaces subject to consistent water-based duress require special paints formulated to provide maximum durability. If you plan to alter the appearance of fiberglass and plastic shower panels, shower tile, sinks or bathtubs, choose either an acrylic enamel or epoxy paint. Each of these finishes is water-based and provides a very hard, glossy surface that will hold up against heavy moisture and friction-based duress. These finishes are also easy to clean and can stand up to harsh, chemical cleansers.
Floors
If you need to paint a garage floor or any other floor exposed to relatively significant amounts of moisture, choose either an acrylic floor paint or two-part epoxy paint. These finishes are well-suited for high-traffic surfaces that must endure spills, leaks and water-based duress.
Considerations
Never attempt to apply any type of paint to a wet surface. Poor adhesion will lead to finish failure. Before any surface will accept paint, it must be completely dry. Use towels or fans to dry pooling water. If you are working in a humid environment, dehydrate the air by running a space heater for at least four hours prior to application.