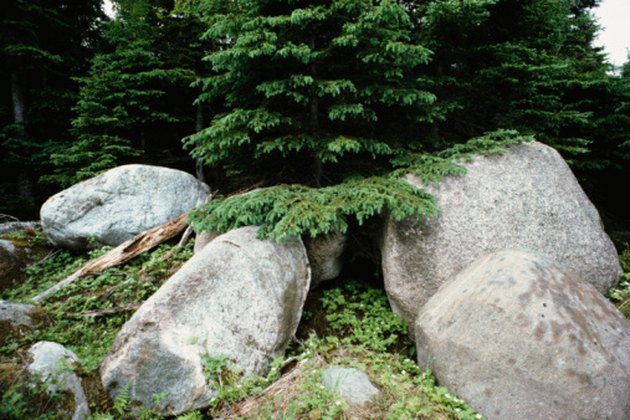 A garden scene filled with boulders can provide a haven of serenity in your yard. However, trying to move large boulders into your space might be anything but peaceful. Artificial boulders are made to be lightweight so you can move them to different locations as you change your garden. These lightweight boulders can be purchased but they are expensive. Using simple materials, you can make your own lightweight boulders easily and inexpensively.
Papier Mache
Papier mache is made by using a mixture of flour paste and newspapers. It is usually applied to a form and the form is removed after the papier mache has dried. Papier mache is created by dipping strips of newspaper in the flour paste and adding the strips to the paste-covered form. This process continues until you have built a solid structure that will stand on its own once the form has been removed.
Chicken wire
Chicken wire can be used in conjunction with other concoctions such as papier mache. It is shaped around a form and the papier mache is then applied on top of it. This gives a paper mache structure more strength and enables you to use less papier mache for the same structure. Chicken wire can be obtained at any farm implement store and most hardware stores. It comes in different sizes. The smaller size makes a stronger structure, as the wire is closer together. Wire mesh works well for this as well.
Styrofoam
Artificial boulders can be made from Styrofoam blocks. They can be formed to any shape you want your boulder to have by cutting it out with a serrated knife or an electric knife. This is also a faster process than building something from a form with papier mache because you don't have to wait for it to dry. Once the block is cut to the shape you want, paint it and your boulder is ready.
Textured paints
Once your boulder is created, textured paints can be used to provide depth and contras. Textured paints come in many colors, so use a combination of different colors for a more realistic look to your boulder.
Cement
Cement can also be used to make your artificial rocks or boulders. The techniques for creating these boulders out of cement are the same as the lighter weight boulders. The technique you use will depend on what you want to do with the artificial boulder once it is constructed.