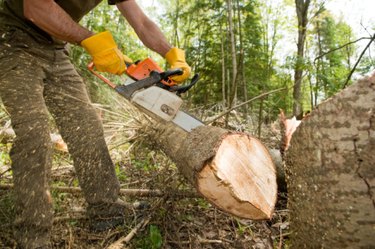 The STIHL 019T is a chainsaw produced by the STIHL outdoor power tool specialist company. They also produce hedgers, trimmers, pruners, augers, drills, blowers, brushcutters and sprayers.
Production
The STIHL 019T was first produced at the STIHL factory in Virginia Beach, Virginia in 1997. It is no longer in production.
Uses
The STIHL 019T is an arborist chainsaw, this means it is meant to be used while in trees to clear branches and manicure trees. Because it is being used while the operator is in the air it is lightweight, balanced and powerful for optimal safety and efficiency.
Construction
The cylinder of the STIHL 019T is constructed from chrome plated aluminum and the crankcase is constructed from cast magnesium. Both are lightweight and rust resistance for durability.
Detailed Specifications
The STIHL 019T weighs 8.8 pounds and features 1.9 horsepower with a 46.5 cc engine. This gives this chainsaw power with a lightweight feel, making it more manageable when being wield. It also has a piston stroke of 1.1 inches or 28 millimeters.