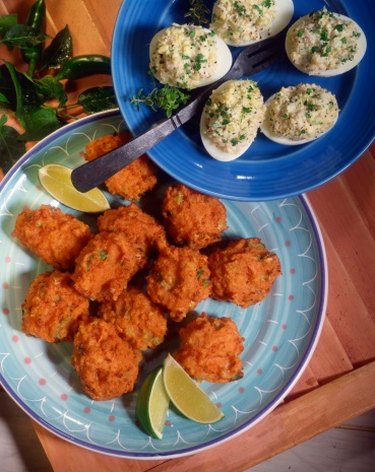 No summer picnic or family barbecue would be complete without deviled eggs. The tangy, two-bite appetizers are ideal for large crowds because they are quick to prepare and can easily be made in large quantities. Depending on how you fill your deviled eggs, you may find you have leftover filling.
Egg Sandwich
The easiest way to use leftover deviled egg filling is to make a tray of sandwiches. The recipe for deviled egg filling is nearly identical to the recipe for egg salad. You may want to add more mayonnaise to make the filling smoother. You may also want to add other seasonings and chopped vegetables, such as cayenne pepper or chopped celery. Toast enough bread slices to make the number of sandwiches you want. Top a toasted slice with lettuce, a piece of fresh tomato, some deviled egg filling and the other slice of toast. If desired, you can make finger sandwiches using bread with the crust cut off and sliced into small rectangles.
Deviled Egg Dip
You can make a dip out of unused deviled egg filling. Place the filling into a large bowl and add anywhere from 1/2 cup to 1 cup of mayonnaise or sour cream, depending on the amount of filling you have. If you have less than 1 cup of filling, use more mayonnaise; if you have more than 1 cup of filling, use less mayonnaise. Stir this mixture thoroughly with a whisk or spoon. Add a package of ranch or French onion dip mix, if desired. For another idea, mix the deviled egg filling with prepared guacamole. Serve either recipe with chips, crackers or small vegetables.
Deviled Eggs Benedict
You can give the classic breakfast dish, eggs Benedict, an unique twist with this recipe. The normal recipe consists of a poached egg atop a slice of Canadian bacon on an English muffin covered in Hollandaise sauce (a rich, egg-based sauce). Substitute a scoop of deviled egg filling for the poached egg and you have a whole new dish: deviled eggs Benedict. Instead of attempting to make homemade Hollandaise sauce (which can be difficult), you can purchase Hollandaise sauce mix from grocery stores.
Deviled Egg Samosas
Samosas are an Indian appetizer traditionally consisting of pastry stuffed with a potato filling. They are easy to make, especially if you use ready-made ingredients. Purchase a package of frozen O'Brien or hash brown potatoes, a package of frozen peas and a package of refrigerated pie crust or won ton wrappers. Cook some of the frozen potatoes with the frozen peas and season with curry powder, ginger and cilantro. Stir your leftover deviled egg filling into the potato mixture. Fill pie crust rounds, circles or wontons with the potato-egg filling and fry them in batches. These are perfect for a large gathering, such as a movie night or a Super Bowl party.