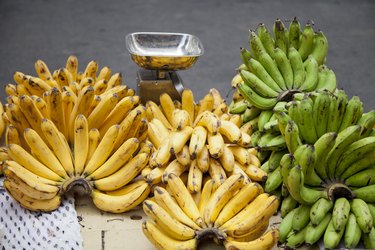 If you're pondering the selection of bananas at your grocery store, you can be almost positive that the bananas you see are of the Cavendish (Musa acuminata Cavendish) subgroup. But if you're in a Filipino market, you may find the highly delectable, sweet lakatan (Musa acuminata Lakatan). The two are similar in look, but pick up the lakatan, give it a good sniff, and its sweetness defines it.
Characteristics of a Lakatan Banana
The lakatan banana is defined by more than its heady fragrance. The skin is thicker than the American cavendish, its peel has an orange tint and it's more expensive. And while you won't be able to discern this just by looking at it in the fruit aisle, the lakatan is higher in beta carotene than other varieties. In fact, any banana is healthier than the simple "apple a day."
Evolution of the Lakatan Banana
First described by the Spanish botanist Francesco Manuel Blanco in the 19th century and named Musa Paradisiaca Lakatan in his book "Flora de Filipinas," Blanco used the nomenclature devised by noted botanist Carl Linnaeus. However, the domestication of the Musa began thousands of years ago in the humid tropical lands of India and the Solomon Islands. The earliest archeological evidence of the Musa was discovered to be Papua New Guinea, 7,000 years ago. From this and through genetic evolution, the Lakatan banana evolved.
Not Always Grown in the Philippines
While the Philippines is known for its massive banana production, lakatans are also grown in U.S.D.A. hardiness zones 8-11. The plants are specialty items and reach 9 to 14 feet tall. Production of mature lakatan fruit requires eight to 12-month cycles. And, since finding lakatans in grocery stores outside the Philippines is just about impossible, growing your own if you live in a subtropical environment is your best chance of eating the sweet treat.
Secrets to Growing the Lakatan in America
Lakatans can grow from seedlings or cuttings, with the cuttings obtained from a reputable grower. The cuttings come from mature trees. and can be planted in the ground with at least 15 feet of clearance on all sides. You can instead plant a lakatan in a pot; just be sure to start with a 3 or 7-gallon container and transplant to larger containers as the plant grows, with a 15-gallon container as your end goal. The cuttings take from one to two years to fruit while seedlings require six to seven years before producing fruit.
Lakatans – a Philippine Dessert
Popular as a dessert in the Philippines, the custard-y taste and consistency of lakatans when made into a dessert is common in this Asian culture.
When blended into a smoothie, the lakatan has a dense texture, unlike that of a Cavendish banana. And if you find yourself on a cruise ship that stops in Manila, be sure to hit the outdoor market and bring a bag of lakatans back to your cabin, then add ice cream and chocolate syrup for a sweet, midnight snack.