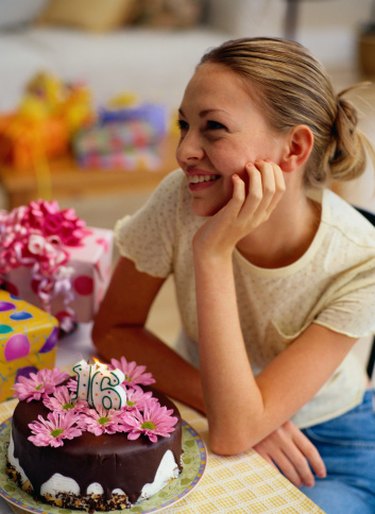 As your daughter turns 16, you might want to document the occasion by having a photo shoot that captures her at that special age. Think about hobbies or passions that your daughter enjoys and tailor the photo shoot in that direction.
Capture the Day
Hire a candid photographer to take photos of the 16-year-old throughout her birthday. This might include moments just as she wakes up, after she gets dressed for the day, enjoying her sweet 16 breakfast and then following her to school, part-time job or whatever activities she has planned for the day through opening presents, cutting the cake and going to bed. At the end of the day she will have a complete photo map of her entire day. These photos can later be turned into a picture book or simply have select shots printed and framed so she will always remember the day.
Party Shoot
If your daughter is having a sweet 16 birthday party with a bunch of her friends, then hire a photographer to capture the evening. Before the event, come up with a list of shots that your daughter wants the photographer to get. For example, she might want posed shots with certain friends, her boyfriend or maybe with members of teams or clubs she belongs to in the community. Having the party shoot list ahead of time will help make sure that all the shots she wants are taken during the course of the party.
Formal Photo Shoot
Encourage your daughter and her friends to purchase or rent formal attire for a photo shoot. To save money, they can purchase items from thrift or discount clothing retailers. Then you can hire make-up artists and hair stylists to do the girls make-up and hair. Finally, hire a photographer and explain the general context of the photo shoot. You might go to the photographer's studio and have the girls sit in front of formal backdrops or you can find elegant locations around your community where the photographer can take the images.
Theme Photo Shoot
Some girls choose to have a theme for their sweet 16 party. Therefore integrate the theme of party into the photo shoot. For example, if your daughter is having a luau party, then the photo shoot can have a luau theme complete with grass skirts and Hawaiian leis. If your daughter is having a decade theme party, then tailor the photo shoot to that decade by asking everyone in attendance to wear clothing of that era. Suddenly decades, such as the '60s, '70s, '80s and even '90s, will come alive and be ready to capture for photos.