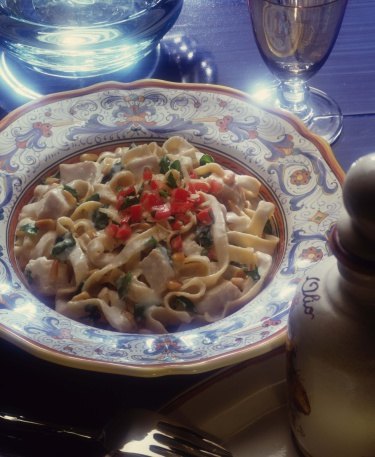 Legend has it that Alfredo di Lelio created Alfredo sauce to satisfy his wife's pregnancy cravings. Although most recipes for pasta Alfredo feature fettuccine, other types of pasta, such as penne, work well. Some of the recipes include meat, either chicken, shrimp or pancetta. The common denominator is di Lelio's signature thick and creamy sauce. Made with butter, cream and a lot of cheese, this sauce is heavy. When choosing vegetables to go with your pasta Alfredo, you have several options. You can add vegetables, either boiled or roasted, directly to the dish. You can serve side vegetables, or a salad.
Boiled or Steamed Vegetables
A large variety of vegetables can be cooked with the pasta or with the sauce, cutting down on dishes to wash. Add frozen vegetables and those that take longer to cook when you add the pasta to the boiling water. Good choices are green peas, broccoli and chopped asparagus. Cook fast-cooking vegetables such as spinach with the sauce.
Roasted Vegetables
Roast vegetables in the oven. The flavor of roasted vegetables does not get overwhelmed by the sauce. Roast a combination of red peppers, asparagus and tomatoes. If you are preparing a vegetarian pasta Alfredo, roasted portobello mushrooms add a meaty texture to the dish. Add the roasted vegetables when you mix the pasta and sauce together.
Side Vegetables
Green vegetables such as asparagus and broccoli make a wonderful side dish. The color contrasts nicely with the white sauce. Drizzle lemon juice on the vegetables and garnish with a small amount of grated Parmesan cheese. Be careful not to add too much cheese, because there is a lot of cheese in the Alfredo sauce.
Side Salads
Because pasta Alfredo is quite rich, a light salad complements the dish very well. Use either mixed greens or spinach. Add bell pepper, tomato and red onion. You should avoid creamy Caesar dressings. Instead, opt for lighter vinaigrette-style dressings and add a small amount of grated Parmesan cheese.